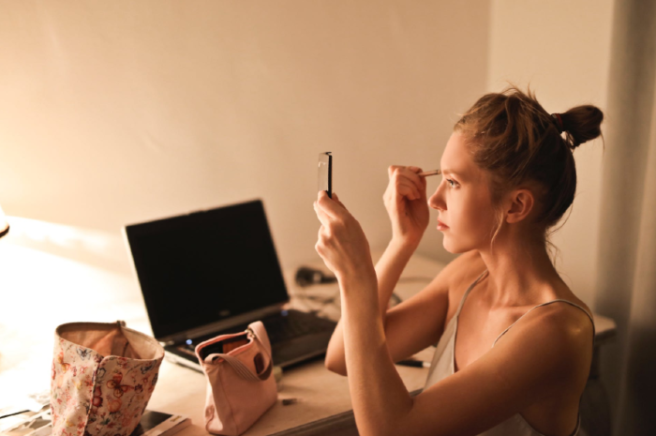 When it comes to getting ready in the morning, every woman is different.
Some women focus on the hair aspect of their appearance, others dedicate themselves to the perfect face of make-up and some women ditch grooming habits altogether. Each to their own.
We're curious, however, about how long the average woman takes to get ready every morning. Luckily, Peter Mark decided to do all the work and carry out a survey on the topic, so now we've got all the answers…
According to Ireland's leading hairdressers, nearly HALF of Irish women would prefer to style their hair in the morning than spend time putting on make-up, and three-quarters of women spend up to half an hour daily getting ready.
16 percent of survey participants spend more than 45 minutes on their getting ready routine, 84 percent take up to 30 mins blow drying their hair and 54 percent of women struggle to do their hair in the morning.
Peter Mark assert that 19 percent of Irish ladies carry a styling tool in their handbag (genius) while 16 percent keep a hair-styling tool at work. Sly brush in the office drawer, anyone?
A further 33 percent of women do their hair and make-up on their commute to work. That takes serious skill on a packed out Dart or disastrous Dublin bus route.
17 percent of participants have styled their hair at their desks, 35 percent have whipped out the brush in the car, 10 percent at the airport and nine percent on the train, according to Peter Mark.
The survey of 1,252 Irish ladies into their grooming habits gave us some interesting results, which category do you fall into?
Ireland's leading hairdressing group have now launched a new tool to help the Irish nation get ready on time every morning: DAFNI Allure. The revolutionary product is the world's first cordless straightening brush, and it's the next big beauty life-saver.
According to one-in-four women, they have to go over their hair with a styling tool after blow-drying to get a more sleek, polished, look. One-third of women admit to needing a straightener just to tame the frizz after blow-drying, but DAFNI is here to save the day.
The award-winning straightening brush was created in 2015 by physicist, electrical engineer and girl boss Sharon Rabi. DAFNI has since taken the beauty world by storm, and Forbes plucked out Sharon to represent one of their 30 under 30 entrepreneurs to watch.
The DAFNI Allure is the perfect product for women who want to style their hair on the go, and can save you some much-needed time and energy.
If you're looking for a solution for your hair struggles, the product will save you a lot of hassle in your daily life. Peter Mark's research shows that a shocking 83 percent of women admit to being embarrassed when running into somebody they know or getting summoned to a last-minute work event without their hair done.
First of all, you look gorgeous 24 hours a day, but if you need a confidence boost and don't want to be stressed about your beauty routine, this tool may just be your new best friend. Resourceful, compact and easy to use, we'd pay a hell of a lot more than €159 for DAFNI Allure.
The DAFNI Allure retails at €159 and is available now from Peter Mark salons nationwide or online here.