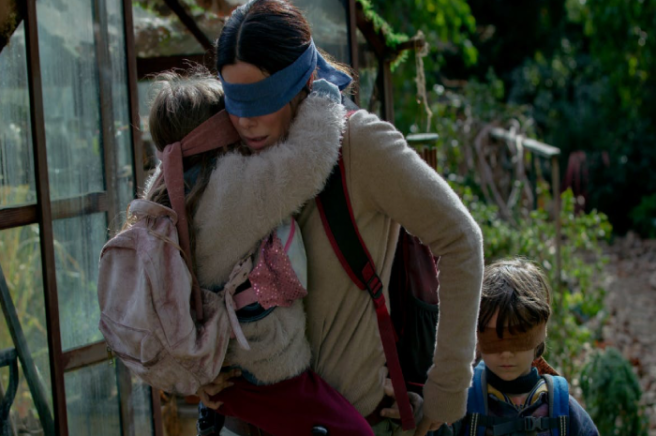 If you haven't seen Birdbox yet on Netflix, you may want to hop on that bandwagon, if only for the sake of these STUNNING make-up inspired lewks.
Sandra Bullock's massively successful horror thriller has the internet and streaming world absolutely hooked, not to mention competing in dangerous blindfold challenges.
— Netflix US (@netflix) January 6, 2019
We were graciously bequeathed with glorious memes at first, but now it's time for beauty to take over.
That's right, Birdbox beauty has begun and we are LIVING for it.
Ryan Kelly shared this gorgeous image of Sandra inspired lip art, and the trend just keeps getting better.
From various birds painted onto the face, to lip and nail art, to cages drawn with eyeliner, the talent is so real.
Some seriously talented MUAs are incorporating blindfolds into their art, making some sweet sweet capital on the film's craze.
We wonder would Sandra ever try any of these?
This next one by @Cinder_Allie beauty is one of our ultimate faves; she was inspired by the book cover and uses black, white and blue tones for a Gothic effect;
SLAY GIRL SLAY. ROW THAT BOAT.
Who says Netflix can't inspire decent lewks?
The infamous "Everyone must look. Everyone must see" quote inspired this next artist, who has honestly one of the best eyebrows we've ever seen;
We NEED to try out this trend on our next night out on the town.
A real-life blindfold could come in useful in a nightclub…
Boy meets girl. Girl looks flawless and wigs are snatched. Boy needs blindfold to recuperate from seeing such staggering beauty up close. It's a realistic scenario, don't you think?
Why not give the trend a go and choose your favourite Bird Box concept for your next make-up regime, we guarantee you'll look incredible even while rowing a boat.