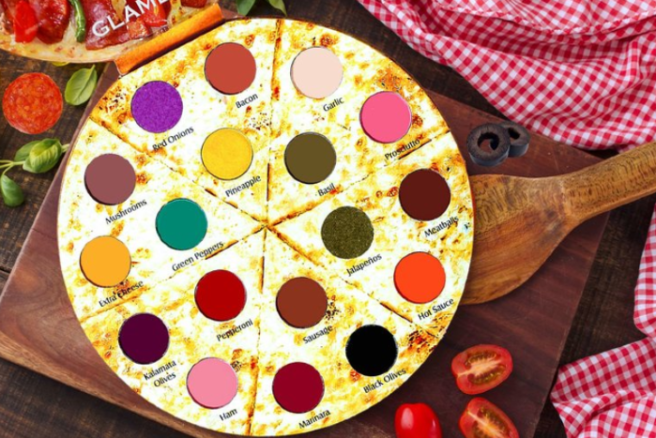 This may be the beauty product we've all been waiting for…What are our two favourite things? Pizza + glamorous eyeshadow = pure, unadulterated joy.
Yep, that's the truth. Glamlite Cosmetics have changed the make-up game by creating a pizza-themed vegan eyeshadow palette, and it's absolutely unreal.
The cruelty-free, vegan beauty giant have described the Pizza Palette as; "The world's most 'delicious' palette, fresh out of the oven and ready for delivery!"
My God.
What's even cooler, if that's possible, is that the creator received hateful messages about her weight insinuating that she 'ate too many pizzas'.
She then decided to carry out the greatest clap-back second only to anything Chrissy Teigen has ever done, by creating a PIZZA-themed palette which sold out in under 48 hours.
What an absolute QUEEN. We stan.
The palette features 18 stunning 'toppings' to choose from, and colours to match. The names range from earthy emerald shades of 'Basil' to the shimmery gold of 'Pineapple', and even metallic purple 'Red Onions'.
This woman is a genius. The product has also been JEFFREE STAR APPROVED, which is no easy feat.
Gold star from the make-up Star himself;
The packaging resembles a take-away pizza box, with highly pigmented colours achieving full coverage for any skin tone.
We're joining the masses and queueing up for one; it's unique and encompasses a badass clapback? We must have it. WE MUST.
Feature image: Insider