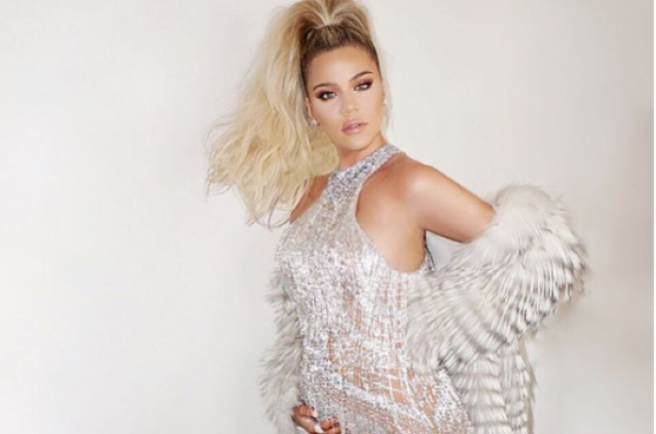 Discovering you're pregnant can be one of the most exciting moments in a person's life.
Khloé Kardashian appeared on Jimmy Kimmel Live! to share how that special event played out.
'Tristan kept saying 'You're pregnant' and I was like: 'Be quiet. I'm not pregnant,'the 33-year-old told the talk show host.
'I was nauseous, not feeling well and then he had to leave the country and I took a pregnancy test… I was like, screaming. It's so weird and surreal,' she said excitedly.
Khloé can hardly walk down a street without being photographed, so getting her hands on a pregnancy test was a task in and of itself.
The mum-to-be sent out her 'trusty assistant' Alexa to get the test. For weeks on end, only Alexa and Tristan knew the good news.
The couple refrained from telling the rest of the Kardashian clan until Tristan was back in the States, as they wanted to spill the beans together.
The happy moment was captured Keeping Up With The Kardashians, of course.
The show's crew actually knew that Khloé was pregnant before her own family. In a way, though, the crew are family as well.
'I've known the crew since 2007. We've had pretty much, essentially, the same crew. And they've been involved in so much of the best and the worst of our lives. And they keep quiet," the reality star shared.
Jimmy asked the TV personality if she's received any advice from her sisters or mum since they found out she's pregnant. Khloé said yes, but that 'a lot of it is, you know, unwanted'.
'Kourtney gives a lot of advice, and I think it's so sweet, but I don't want to do some of that stuff…It's either her way or no way,' she admitted.
Khloé said she and Kourtney been fighting a lot lately as a result, and that usually they 'never fight'. One point of contention was Khloé's desire to have a TV in her nursery.
She said her big sister thinks Khloé is 'the worst person ever for wanting a TV'.
Hopefully, though, they'll patch things up, as Kourtney and the rest of the fam are expected to be in the delivery room in Cleveland with Tristan and Khloé on the big day.
'I've been in the delivery room for all of their babies…I even witnessed Kylie being born from my mom,' the expecting mum shares.
She was only 13 years old at the time, and she said the experience was 'horrifying'.