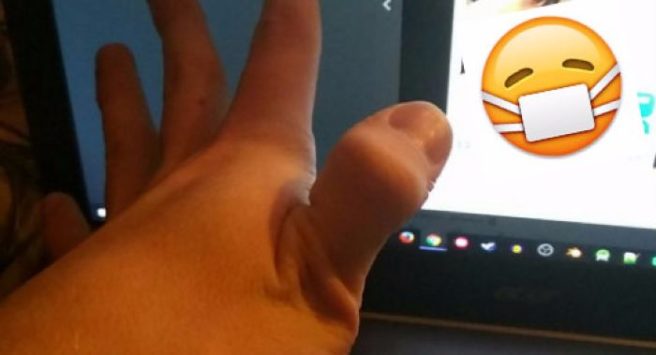 Internet trends are a funny thing.
From charity trends like the Ice Bucket challenge and the #NoMakeupSelfie, to the pop culture ones like the Kylie Jenner lip challenge… it seems like once a topic is 'trending', many of us will succumb to it.
However, this latest one is probably the most stupid we've seen in a while.
A meme started floating around about two weeks ago, which gave you instructions on how to break your thumb ligament.
Why someone would want to do this – for absolutely no reason whatsoever – we don't know, but lo and behold, people actually started to break their thumbs.
And then tweeted about it:
CAM JUST BROKE HIS THUMB OVER A TWEET pic.twitter.com/67TxVUoBfO

— DR (@drewj2017) January 6, 2017
My poor friend @CapitalDEEZ_ Twitter over here making him break his thumb ligament pic.twitter.com/wioEJOrp3M

— Gringaruvian (@KaySammikay) January 6, 2017
It's not that hard to break the thumb ligament pic.twitter.com/tpzYK4xOWw

— TigerCaptain (@TigerCaptain_) January 6, 2017
@Meli__10 @Maaarisol9 lmao idk if its because my thumb is already double jointed ( sorry for my chipped nail polish) pic.twitter.com/DJ2jRHF1ri

— Janet (@littlejanet07) January 6, 2017
DAH FAWK!!! Do not try to "break your thumb ligament" pic.twitter.com/NI70YlPc5I

— Braeden Rampey (@bdotrampey) January 7, 2017
turns out it is possible, and now I have a broken thumb ligament ¯_()_/¯ pic.twitter.com/w2uryPWQ1w

— alex (@yuhashama) January 12, 2017
He thinks I'd seriously break my thumb ligament for pain #nopainnogain @aaron_faithful pic.twitter.com/PJCC7uu9eG

— (@_calliefrankum) January 7, 2017
Just don't do it.