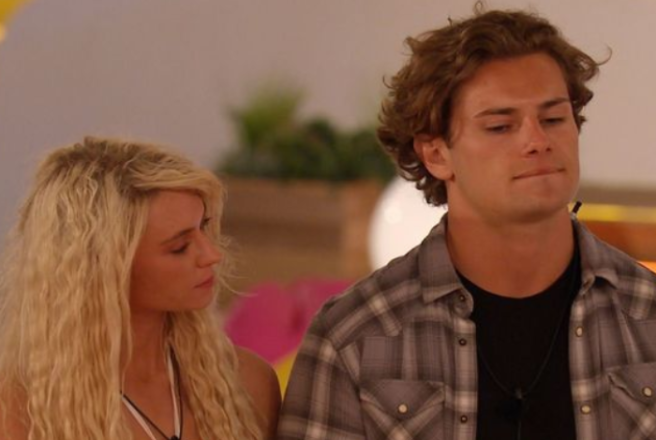 Love Island's Joe Garratt has been hidden in a 'safehouse' since he was voted off the show after severe viewer backlash to his relationship with Lucie Donlan.
According to The Sun, the 22-year-old has been transferred to another location with two security guards and has been briefed about the online fury over his apparent 'possessive' behaviour towards Lucie.
"Joe has been in the safehouse since leaving the villa," an insider from the hit ITV reality show told the publication. Joe's friends and family have slammed the "unfair editing" of the show.
"There has been a backlash against him and as part of ITV's new duty of care, they're doing everything they can to help him deal with it when he comes out."
Lucie and Joe share an emosh goodbye as he leaves the villa. #LoveIsland pic.twitter.com/v0ujFENuYo

— Love Island (@LoveIsland) June 19, 2019
Lucie was devastated after her coupling partner was voted off the island, along with Elma Pazar. The surfer spoke to cameras after his eviction, saying;
"I'm gutted. You could clearly see that me and Joe had feelings for each other. I don't know what I'll do without Joe. He's literally been my rock in here."
Joe promised to wait for the 21-year-old model/surfer outside of the Spanish villa. Joe's mum is said to be 'devastated' by the claims that her son is emotionally controlling Lucie.
The sandwich maker fell hard for the Cornish gal in the villa but was booted out, thanks to fellow islanders saying himself and Lucie weren't compatible.
Speaking to the Mail Online, Joe's mum said: "I know my son and he's not like how he's being portrayed."
Women's Aid charity expressed their concern over Joe's actions, and viewers branded his behaviour "abusive", after he told her that her male friendships were 'weird' and that he wanted her to bond with the girls instead.
His mum, Rachel, has denied the claims; "Both myself and his sister are his best friends. He doesn't emotionally control anyone. What has been said in the newspapers today is just sheer rubbish, that is not my boy."
She continued: "I see him every day of the week and there's no way he would make a girl cry. He's a normal, loving 22-year-old lad."
She described his everyday life as a reason for his behaviour being different to what he was portrayed as on the show, which is a bit irrelevant? You can go to the gym and be emotionally controlling but alright…
"He's got hundreds of friends, he goes to the gym every day. They all love him. He goes and plays rugby at the local club, they all love him.
"No friend he's got, boy or girl, nor any of his ex-girlfriends have got a bad word to say about him," she added. "It's a real shame this has happened."
The ITV2 show has received over 800 Ofcom complaints over Joe's relationship attitude toward Lucie. Women's Aid described Joe as having "possessive behaviour."
Controlling behaviour is never acceptable, and we're pleased to see more and more people spotting the early warning signs on #LoveIsland https://t.co/Bh3Gi2nRqs

— Women's Aid (@womensaid) June 17, 2019
Donlan's mum has also come out in support of her daughter's relationship with Joe. Speaking to the MailOnline, Celine said that her daughter is "very happy" on the show
Celine also praised ITV for the support they've been giving to both Lucie and the family.
"Lucie should stay on the show," she said.
"We've got no worries over her what so ever, she's very happy. The support given to her and us as a family by ITV has been amazing."
The sandwich seller is now holed up in a Majorcan hotel where he will remain in hiding before flying home to the UK. This is standard Love Island procedure for the reality stars.
ITV bosses brought in new standards of aftercare this year, so it's looking likely that they are protecting Joe from the online anger against him.
He was bombarded with furious messages online over his romance with Lucie, and was accused of being "abusive" for asking her to spend less time with her friend, Tommy Fury.
FIRST LOOK

After Joe's shock exit, a devastated Lucie is left feeling betrayed by the remaining couples. Yewande has doubts about Danny, and Amber's struggling to tell Michael how she really feels. Will a surprise date provide the perfect opportunity? #LoveIsland pic.twitter.com/t26xjyvbNI

— Love Island (@LoveIsland) June 19, 2019
Lucie is now distraught, and appears to be on the verge of voluntarily leaving the show. Lucie isn't sure how she'll cope without her partner, and is shown in tears in a clip from tonight's episode.
Many fans were also left raging over Amy's treatment of Lucie, after spotting her pulling a face when Lucie was saved.
Feature image: ITV/Love Island