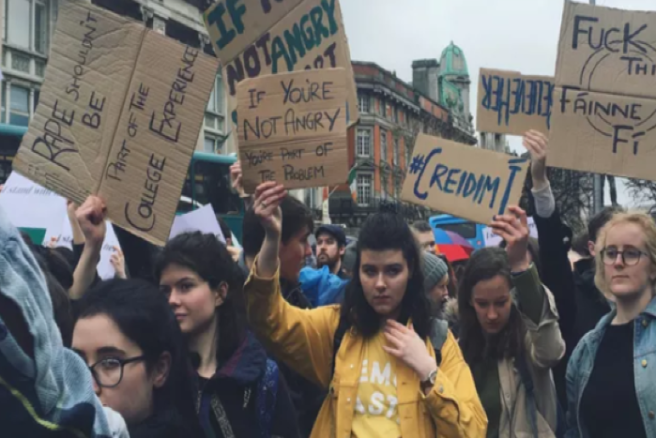 Nationwide rallies will take place tomorrow to protest victim blaming in the Irish courts following a controversial trial verdict in Cork.
Irish women have been sharing viral images of their underwear in response to the rape trial, in which a Cork barrister used a 17-year-old girl's underwear to argue that she had given the man accused of rape consent.
The 27-year-old man was found not guilty of raping the young woman in a Cork laneway; a result which has caused outrage all over the country.
The barrister representing the man, Elizabeth O'Connell SC, asked jurors to take into account the underwear which the teenager had been wearing at th time of the alleged rape.
She claimed the woman's "thong with a lace front" suggested that the woman "… was attracted to the defendant and was open to meeting someone and being with someone."
The Socialist Feminist organisation ROSA have responded by organised multiple rallies all over Ireland following the result.
Through their Facebook account, the group called the reference to the underwear a "disgrace" and are campaigning for an end to "victim blaming in the courts."
"These lines of character accusation and victim blaming are unfortunately a common tactic used in cases before the courts relating to sexual violence," ROSA stated.
"The judiciary has proven itself time and time again to be utterly damaging to survivors of sexual violence to seek justice."
The hashtag #thisisnotconsent has appeared all over every social media site, alongside photos of women's underwear in all forms.
Absolutely sickening. A 17 year old girl who will forever be haunted by the fact a lawyer used her underwear against her.

And it worked.#IBelieveHer

— Sophie (@sophswhynot) November 12, 2018
There is a huge amount of anger online regarding the trial, which is especially poignant following an emotional year for women. The Belfast rape trial in March also caused a backlash nationwide when all four rugby players involved in the incident were acquitted of rape.
The '#IBelieveHer' hashtag is also spreading throughout Facebook, Instagram and Twitter in solidarity with the Corkwoman.
I can't believe this even needs to be said but knickers do not equal consent. #ibelieveher https://t.co/yj4jejQ6zU

— Katie-Ann McDonough (@KTNMcD) November 13, 2018
Protests in Dublin and Cork will begin at 1pm tomorrow, the rally on O'Connell street will meet at the Spire. On Wednesday November 14, a Limerick rally will begin at the earlier time of 12.30pm, and the Waterford protest will take place at 3:30pm on Friday November 16.
Check out the Ruth Coppinger TD and ROSA – Socialist Feminist Movement Facebook event page for more information.
Feature image: girlcrew.com