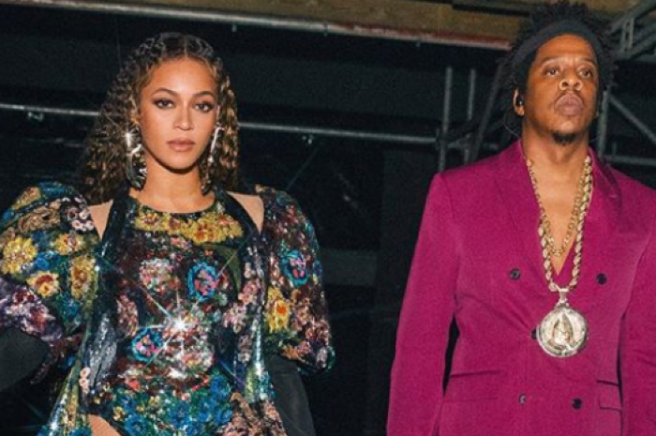 You're about to have serious FOMO, that's for sure. Why? Jay-Z and Beyoncé's annual Oscars after-party, that's why. Unforch, social media was banned at the bash so there ain't many public photos.
The bash is as exclusive and private as you may imagine, with stars such as Adele, Rihanna, Drake, Spike Lee, Adam Driver, Jamie Foxx, Leonardo DiCaprio, Chris Evans and Natalie Portman showing their faces.
Newly engaged Orlando Bloom and Katy Perry arrived as an item, as well as power couupe J-Lo and Alex Rodriguez and social media legends Chrissy Teigen and her husband John.
Natalie Portman, Leonardo DiCaprio, Chris Evan and Adam Driver attend Beyoncé & JAY-Z's #Oscars after party. pic.twitter.com/ynsywUlENb

— (@OTRIITourInfo) February 25, 2019
According to an insider at E! News; "The party was completely A-list. Guests began arriving around midnight and they didn't leave until about 5 a.m. and later. It was the party everyone wanted to be at it seems."
No surprises there. Tell us more about Katy and Orlando, that's what we want to know;
"Katy and Orlando were the life of the party. Everyone was approaching them to say congrats and they were both 'cheers'-ing their drinks with anyone and everyone," the source shared.
"Katy looked amazing in a silver gown and Orlando was by her side the entire night. Jay-Z and Beyoncé seemed happy to see them and the four of them were talking for several moments."
Katy Perry and Orlando Bloom are arm-in-arm at Jay Z and Beyonce's Oscar party as she flashes her $5m engagement ring pic.twitter.com/pyUFzaJc8N

— (@bestgug) February 26, 2019
"The music was mainly hip-hop songs mixed with classics like Beyoncé's top hits, Justin Bieber and Ariana Grande," the source shared. YAS to Break Up With Your Girlfriend, I'm Bored and 7 RIngs blaring. Armand de Brignac Brut Gold Champagne was apparently flowing too.
"Everyone was on the dance floor dancing having a great time." Jamie Foxx was spotted getting the crowd hyped when he yelled the lyrics of rap songs in the background, and Kelly Rowland caught up with Queen Bey.
Beyoncé and her Destiny's Child sister hit the dance floor together and were having a great time. "They both were drinking and smiling. Beyoncé seemed relaxed like she felt she could let loose for a night."
Spike Lee, @ReginaKing, @TiffanyHaddish, @ava, @fatbellybella & more at Beyoncé & JAY-Z's Oscar after party. #GoldParty pic.twitter.com/xC8Rh5Xj1a

— (@BeyLegion) February 25, 2019
Of course, we CANNOT forget about Bad Gal RiRi, the woman who can upstage literally anyone's outfit.
Rihanna showed up looking stunning in a leopard mini-dress, and had to be in the same room as Drake which must have been hella awkward. She probably curved so many former romantic prospects.
Us Weekly, wrote that the soirée went down at the Chateau Marmont garage, where guests were reportedly told to honour a no-phone policy. Daniel Humm and Eleven Madison Park did the lush catering.
"They wanted the environment to feel safe for everyone, so everyone could actually just be themselves and let loose," according to a source. Naturally, press weren't allowed inside.
Joe Jonas and Sophie Turner, Diddy, Serena Williams, Regina King, Michael B Jordan, Tiffany Haddish, Aziz Ansari, Oscar winner Olivia Colman and every other A-lister you can name were also there. Imagine being in that room…
RiRi left the party in slippers, because of course she did. A whole mood. In conclusion, everyone wanted to be there and no photos of Beyoncé's outfit have appeared, but you can bet your bottom dollar she stole the show.
Feature image: Instagram/@beyonce