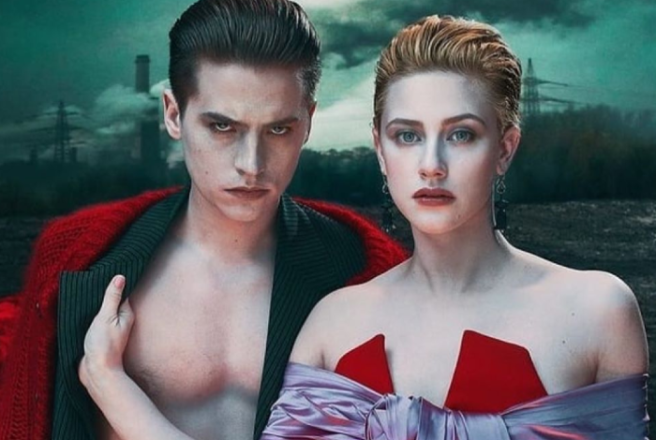 We don't know about you, but we're mighty confused right now about Lili Reinhart and Cole Sprouse.
Rumours rocked the entertainment world this week, with E! News and Harper's Bazaar among others reporting that the Riverdale pair had split up after two years of dating.
The former couple are now trolling us all after showing a united front, proving that they remain close friends. They both took to Instagram to debut a stunning vampire photoshoot, taken just before they broke up;
The interview explains their relationship in their own words, with Lili hinting that #Bughead's relationship on the TV show may also be coming to an end.
Shutting down rumours that they couldn't be near each other, both of them mocked the 'inside sources' criticising their relationship, claiming that they were avoiding each other at Comic Con.
Lili captioned the photo: "BREAKING: A reliable source has confirmed that none of you know s**t." Drag us, Lili. We deserve it.
Meanwhile, Cole chose to go down a darker route and joked: "UNPRECEDENTED: Cole Sprouse and Lili Reinhart consume the flesh of 'reliable sources' to fuel their bacchanalian sex cult.'" Plot twist?
The interview took place just before they called time on their relationship, confirming that they'd parted ways in the months following the chat.
Emphasising the fact that they were on unstable ground, the duo had their interviews conducted separately but insisted they were on good terms.
Don't believe everything you read on the internet, kids. And news sources should try a little harder to be less vile. "Reliable sources" can kiss my ass.


— Lili Reinhart (@lilireinhart) July 25, 2019
Lili told W Magazine: "At first, I didn't want things private. "Now that I'm X amount of years in, I do appreciate the privacy we have, that Cole's encouraged me to take.
"No one knows how long we've been together, and no one will until we're ready to say it. No one knows how we fell in love, except for our close friends and us," she added.
"It's really special." Lili was catapulted into fame after getting the role of Betty Cooper on Riverdale.
Lili added; "If and when we break up on the show, I don't know. It's weird being with an actor. You deal with s**t no one has to deal with."
Cole mentioned privacy in his part of the interview:
"Until you go through the paces and the dating stages and know that something is right for you, I don't think it's appropriate to bring others in.
"But in all honesty, my own happiness and her happiness come before caring about what people are saying."
Feature image: Instagram/@lilireinhart