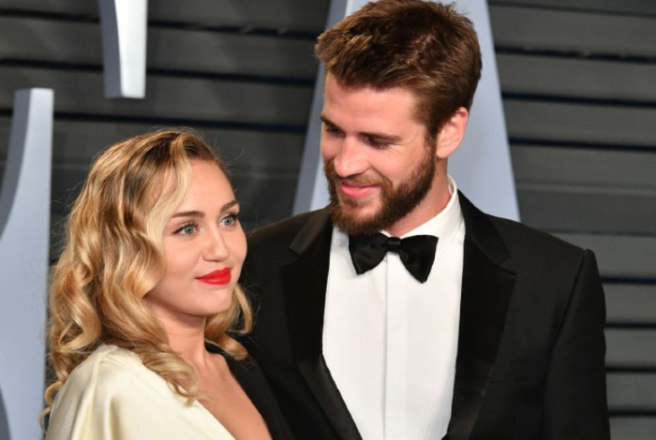 Everyone in the galaxy is 100 percent aware that Liam Hemsworth and Miley Cyrus are husband-and-wife GOALS.
Liam is unfortunately recovering from a nasty case of kidney stones, and was unable to attend the premiere of his new rom-com flick Isn't It Romantic alongside co-star Rebel Wilson.
Luckily his wife is unreal, and walked the red carpet on his behalf looking absolutely stunning in red.
Poor Liam has been absent from her side while recovering, he was recently hospitalised for the condition. Miley wrote a post on her Instagram explaining the red carpet move after he couldn't attend the Grammys;
"So proud of my hunky hubby Liam Hemsworth & his newest movie Isn't It Romantic. He unfortunately wasn't able to attend due to health reasons… but he is recovering and taking this time to rest/heal. It's hard for entertainers to put themselves before the project but this time it was crucial."
"I am proud to represent him and his incredible work. So happy to see him shining in this comedy! He is the funniest person I know, and the world now gets to see the Liam I wake up to every day…. luckiest."
Awww, she's doing her handsome husband proud.
His comedienne co-star Rebel Wilson confirmed that he'd been hospitalised beore the Grammy Awards, and Us Weekly reports that said hospitalisation was due to kidney stones.
Liam posted a message of thanks to his own Instagram thanking his wife:
"Sorry I couldn't make it to the @isntitromantic premier tonight guys. Been dealing with some pretty annoying health stuff the last couple days."
"Lucky I have the best girl in the world to represent for me! Thanks for the support babe! I hope everyone enjoys the movie! It's a perfect Valentine's Day flick so if ya ain't got nothing better to do then go see it! Love to all!"
Miley also wrote; "Getting sick blows. But so do I. Get well soon babe. I love you. Play that sax you sexy f*ck." Oh to be young and in love…