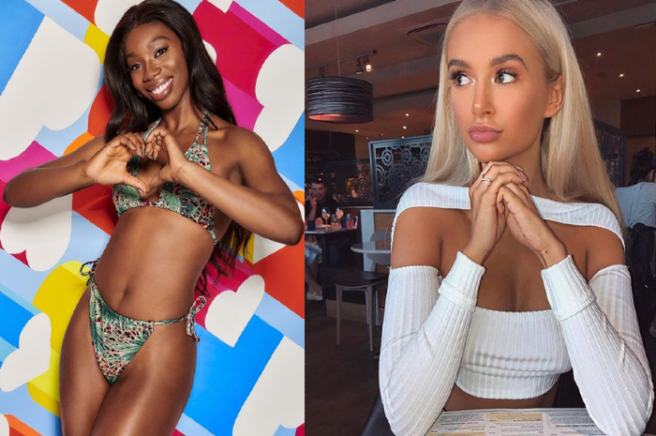 Molly-Mae has barely been in the villa five minutes but is already causing her fair share of tension among the girls and the boys alike.
Yewande deserves her shot at love, and when she was sent on a date with new Love Island-er Danny Williams, she came back positively glowing. GLOWING.
Despite the fact that Molly already has Tommy and Anton fighting it out to win her heart/other body part, she turned her attention firmly towards Danny when he walked in the door.
I'm getting a stress rash. #LoveIsland pic.twitter.com/6YtmKc8qR8

— Love Island (@LoveIsland) June 10, 2019
Yewande has failed to find romance on the show so far, after being coupled with the gorgeous Scouser Michael Griffiths, but Danny invited both her and Amber on a date last night and Yewande's seemed to go better.
Our excitement almost got out of hand when the pair kept making prolonged eye contact, but all was foiled the second Molly turned her attention towards him. "He's so my type," she says.
(Bear in mind, she has said this many times…) Irish Twitter were having absolutely NONE of her, though, and are backing up Yewande.
Molly-Mae has her eyes firmly set on Danny, but what does Yewande have to say about that?! #LoveIsland pic.twitter.com/LCDt3qCR3r

— Love Island (@LoveIsland) June 10, 2019
"Tall boys are just a thing for me," Molly said. Talking about her flirtationship with Tommy Fury, she said: "I just feel like he is in 'Tommy Land' and I'm trying to get my way into it.
"Maybe I need to get into 'Danny Land'?" Yewande was upset about Molly-Mae's comments, although she did insist that Danny isn't hers to have and to hold.
"She says he's her type," Yewande said. "Everyone is her f****** type." Those science kitty claws are coming out, and we don't blame her. Molly is seriously trampling on girl code.
Yewande: I usually like someone who is thoughtful, intellectual, is good fun and who is kind to others.

molly mae: i nEeD sOmEoNe wHoS TaLl#LoveIsland pic.twitter.com/hSylBrPSLU

— lou (@loulolst) June 10, 2019
The memes about the love triangle were absolutely hoppin' on Twitter last night.
yewande: everyone is her type
the uk:#loveisland pic.twitter.com/gYQD6uKtqW

— (@faekiddo) June 10, 2019
The UK and Ireland have both seemingly sided with Yewande, because she must be protected at all costs.
The UK when Molly Mae tried to graft Danny in front of Yewande #LoveIsland pic.twitter.com/tDz4oKGSAd

— Jasmin (@ItsJasminHere) June 10, 2019
We love when Yewande stands up for herself, but that "everyone's her fucking type" clap back SHOOK US.
the nation after yewande said 'everyone's her fucking type' #loveisland pic.twitter.com/EM6GWIcTNY

— (@rubyparkerxo) June 10, 2019
We are also SERIOUSLY appreciating the fact that Yewande is getting more screen time. God is good.
this is how yewande was looking at molly mae when she said she fancied danny#LoveIsland pic.twitter.com/YSRLtq8qS0

— (@_evielily_) June 10, 2019
The boys escorting Yewande over to Danny, and Anna and Amy having her back until the end has us weeping:
Anna being the captain of the Yewande defense squad #loveisland pic.twitter.com/8UgNZ2ErJd

— Fi (@iwasntevenhere) June 10, 2019
Yewande's fan club aren't taking any risks when it comes to Molly-Mae…
When Yewande's fan club get hold of Molly-Mae's Fiat 500. #LoveIsland pic.twitter.com/wYMEonrett

— Ryan (@RRyanH92) June 10, 2019
The boys are lusting after Molly-Mae but realise that Yewande needs her Danny Boy:
The squad of lads walking Yewande over to Danny after hyping her up #LoveIsland pic.twitter.com/8T9lM0iO4Y

— alexandra (@alexdalton97) June 10, 2019
They don't seem to mind stepping on each others toes, but Molly-Mae has already pissed off Amy when she asked for a date with Curtis so she CAN'T BE TRUSTED:
#loveisland
Mollie mae: I don't want to step on Yewande's toes

Mollie mae: pic.twitter.com/rCWPynJSF9

— Alanna Myles (@Alannamylesx) June 10, 2019
In summary, Team Yewande for the win, Team Molly is a sin. Our Irish representative in the villa needs our undying Danny love, and we have to stan.
Tune in tonight to see who Danny makes a move on, and to check out Amber and Michael slowly falling more in love *single tear*.
Feature image: Instagram/@yewande_biala/@mollymaehague