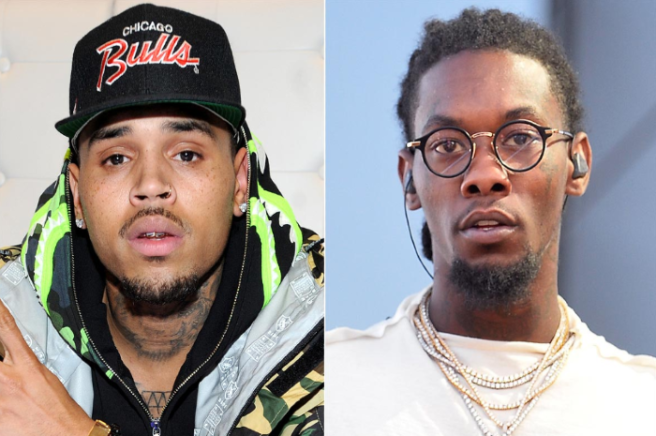 'F*ck you' Chris Brown attacks Offset over 21 Savage meme
Chris Brown has gone certified CRAZY at Offset on Instagram over the ICE deportation of rapper 21 Savage.
21 Savage, whose real name is Sha Yaa Bin Abraham-Joseph, is being held by American Immigration and Customs Enforcement for overstaying his visa by 13 years. The rapper is actually a UK citizen, and faces deportation.
Since that news hit the headlines, a series of memes have surfaced across social media. Singer Demi Lovato was forced to delete Twitter after laughing at one meme, which caused uproar, and now Chris Brown and Offset have come to blows.
Chris Brown responds to Offset's comment via IG pic.twitter.com/d5A7e94Dw4

— CB Live (@CBLIVEHQ) February 7, 2019
Brown posted one meme to his Instagram which featured a mash-up of 21 Savage performing while UK rapped Big Shaq's voice is played over the clip instead.
Migos star and Cardi B's husband/baby daddy was less than impressed and commented, 'lame'. He replied to the Loyal singer, 'Memes ain't funny,' showing support for the UK performer.
It's safe to say that Chris didn't take this too well, telling Offset to 'fight me' in a huge rant; "F*CK YOU LIL BOY. BETTER WORRY ABOUT WHAT U GOT GOING AND FOCUS ON 'YOU'". Oh dear…
He continued his all-caps explosive comment;
"All this cap on IG IS WHATS LAME.. YO ENERGY WONT LIKE THAT WHEN I CAME TO THE DRAKE SHOW IN LA. 'IF U DONT GET YO A HIP A HOP A HIBBET A HIBBET TO THE HIP HIP HOP AND YA DONT STOP THE ROCKIN FACEASS OUT MY COMMENTS. 'SENSITIVE ASS N****…CALL ME PERSONALLY."
It didn't end there…
"U WANT SOME CLOUT WHEN ALL YOU GOTTA DO IS PULL UP. No camera no flexing and all that!!!!! IF YOU A REAL MAN FIGHT ME. Oh and another thing, SUCK MY D*CK!!!!" If his mother heard that bad language, my God.
Offset took to his Instagram story to write; "Coke head don't want (smoke emoji". Chris then added to his story;
"If he don't get his earth wind and fire pootytang space suits wearing cap ass lil boy da f*ck out my comments and off my d*ck." Their heated exchange follows the news that Beyoncé's hubby and rap God Jay-Z has stepped in to pay for legal help for 21 Savage's case.
21 Savage was supposedly from Atlanta, Georgia, had allegedly applied for a non-immigrant U-Visa in 2017, but the application is still pending.
He claims he is being "intimidated into giving up his fight to remain in the United States". Legally, his team say he's not a flight risk as he has three children who are all US citizens and live in Atlanta.
Chris Brown found himself in his own spot of trouble recently after being accused of rape in Paris a few weeks ago, but he was released without charge.
We wonder if Cardi B will jump in to defend her husband?
Feature image; People