To anyone who has yet to watch the gloriousness that is Sex Education, BOY are you missing out right now.
Netflix' latest teen show is beyond hilarious, heartwarming, important, inclusive and damn educational; we thank the gods someone had the genius to create it.
Some of the most memorable scenes in the hit show, watched by millions in its debut week of streaming, are the sex scenes.
For some of the young cast, these were their premiere roles, so many of us would assume they were embarrassed or awkward while filming the vital and sometimes amusing sexual moments.
Surprisingly, the cast have spoken about how filming these graphic scenes were actually their favourite, because of the important conversations which ensued because of them.
Aimee Lou Wood, who plays Aimee Gibbs, chatted to POPSUGAR about the laughs the cast had while on set, preparing for the sexy script to be played out.
Her character is in the opening of the first episode, having sex with Adam's character (played brilliantly by Connor Swindells) and asking him, "Do you like my tits?"
She actually found it easier than she thought to carry out these moments; "I thought the sex scenes would be the scariest days, but they were actually really fun," she explained.
aimee gibbs | sex education

— "i've been wanking all night. i ate four packets of crumpets, and i think my clit might drop off." pic.twitter.com/f4AyCcR0yO

— sophie (@gcllavichs) January 17, 2019
"When you have someone with you, like either Connor, or Chris Jenks ('top-heavy Steve'), they were just such fun days. because it's like quality time with one other person, and you just get to know people so quickly," she described.
"The conversations get really deep because you're just put into this environment where you're exposing yourself so much that the only way you can deal with it is just letting it all go. You make really good friends and you get to know people really well."
Kedar Williams-Stirling, who plays the handsome school jock Jackson, agreed with Aimee; "I think that's what the sex does in the show, isn't it? It kind of opens up the can of worms for other topics, which is great."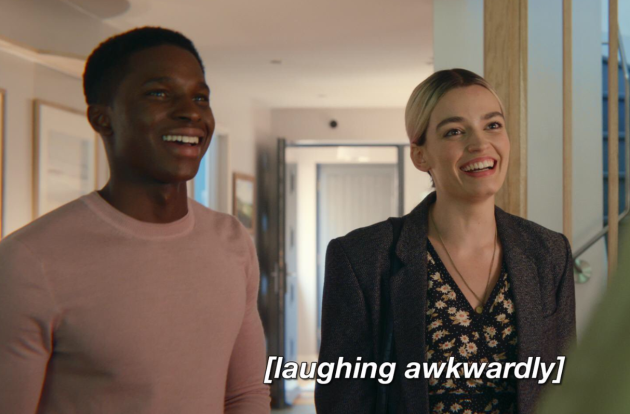 He confessed to enjoying working with Emma Mackey, who played the badass 'complex female characters' Maeve Wiley, on their sex scenes.
"I think that those are the scenes where I really got to know my character best in . . . they both kind of show who they really are when it's just those two together."
Mackey cited one of the shows most moving guest stars for completing her favourite scene: Lu Corfield, who played Sarah's character at the abortion clinic.
"She completely transformed my entire world. She's a sensational actor and woman, and I was with her for two days and in the space of that two days I just felt that we had this bond, and she's such a special woman. That was incredible," Emma said.
This scene was truly heartily breaking. Great performance from @LuCorfield https://t.co/DIFtCaGQqQ

— (@Tasharosemills) January 23, 2019
Alistair Petrie, who plays Mr. Groff, Adam's dad and the school headmaster was another member of the supporting cast who made a monumental impression.
"He's such a great actor. Working with him, you forget that you're working because he's so hilarious, and so talented at everything. He really makes you feel comfortable when you're working with him," said his on-screen son, Conor Swindells.
"Any scene that I ever had to do with him was always a blast."
Ok but I'm still thinking about how Adam and Mr Groff were perfectly casted in Sex Education.
THEY HAVE THE SAME NOSE CHANGE MY MIND

— (@lucatyoung) January 23, 2019
Asa Butterfield had nothing but rave reviews for his on-screen mother Joan, played by Gillian Anderson. Playing the role of a sex therapist, her son Otis struggles with his own sexual issues, which he must navigate without her.
"I love working with Gillian, I think we had some really nice scenes which are both funny but also incredibly touching."
The show has been praised for its magical ability to combine hilarious moments with deeper issues.
One character who embodied this feat was Eric, played unbelievably well by Ncuti Gatwa. He had us giggling one second and weeping on his behalf the next as he struggles through his difficult relationships as a gay man with his father.
you REALLY need to watch sex education just because of eric. he's such a beautiful and soft bean. HE DESERVES MORE pic.twitter.com/qOSTF2G3db
Gatwa's favourite scene to film is one which illuminates Eric's entire journey: The scene where Eric returns to church with his family, after feeling disconnected from his religion and community following a homophobic attack.
"It was just nice to have the whole set, everybody kitted out in their geles and their traditional cloth, and just the storyline of that: Eric being embraced back into his community after he's been 'excommunicated' for a while. That day was so full of joy and light."
The whole cast bring us joy and light, okay? SEX EDUCATION SPARKS JOY.
Season one is available on Netflix now, we're currently huddled in prayer for a season two. Join us.
Feature image: Dans Media Digest