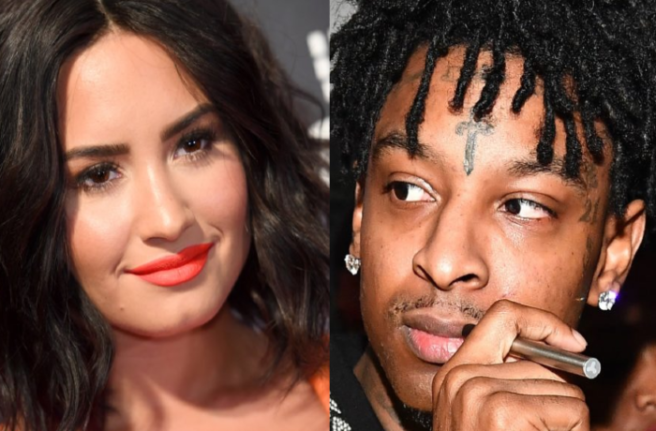 Poor Demi, she can't seem to catch a break.
In case the news hasn't hit you yet, the rapper 21 Savage is set to be deported from the US due to claims of his British nationality. HE was allegedly born on the British colony of Dominica.
His real name is Sha Yaa Bin Abraham-Joseph, and he was arrested on Sunday morning by Immigration and Customs Enforcement (ICE) for reportedly overstaying his visa.
The Cool For The Summer singer has had to delete her Twitter after making a comment about the rapper's arrest and precarious situation.
The news of 21 Savage's possible deportation quickly spread online and became meme material. While Twitter was finding the whole thing hilarious, it stopped laughing the second Demi commented.
On Sunday night, she wrote to her Twitter; "So far 21 savage memes have been my favourite part of the Super Bowl."
Immediately, things went pretty dark for Demi. Offset appeared to subtweet her, saying; "ALL THE MEMES AND S–T AINT FUNNY WHEN SOMEBODY GOING THROUGH SOME," the Migos rapper wrote.
"PRAYING FOR MY DAWG AINT S–T FUNNY HIS FAMILY DEPENDING ON HIM."
SUCCESSFUL BLACK MAN
THEY ALWAYS TRY SOME WAY TO BRING US DOWN

— (@OffsetYRN) February 4, 2019
The 26-year-old singer tried defending and clarifying herself in later tweets, but social media users were already attacking her with suicide and drug-related references.
"If you're gonna come at me for making a joke, try coming at me with some original, not involving drugs," she wrote. "F–k Twitter. This is why I don't tweet anymore."
The meme she was referencing was of an old-fashioned feather quill, because of his apparent British ancestry.
Some of the tweets which targeted the singer were extreme, to say the least.
People got pretty vicious against her online, considering many of those who threw hateful vitriol her way were previously laughing at 21 Savage memes themselves, or even making them.
Look she wasn't talking about anyone being deported it was about him writing with a feather pen. You know everyone keeps laughing at her addiction and OD y'all need to back off she doesn't deserve that. @ddlovato has been through more shit then anyone should have to go through.

— Cheyenne Nichole (@CNKinder20) February 4, 2019
Demi took to her Instagram to defend herself;
"Wasn't laughing at anyone getting deported. I know that's not a joke…not have I EVER laughed at that," she penned. "The meme I posted/was talking about was of him being writing with a feather pen. Sorry if I offended anyone."
She continued, "It's no excuse to laugh at someone's addiction, let alone their OD."
Yikes, things certainly escalated there, didn't they?
Dina LaPolt, 21 Savage's attorney, told E! News in a statement that they were;
"Working diligently to get Mr. Abraham-Joseph out of detention while we work with the authorities to clear up any misunderstandings."
If he is in fact British without a visa, it's a highly well-kept secret according to the internet.
21 savage: "Don't come out the house 'cause the gang outside"
The gang: pic.twitter.com/G7QgH8EZW9

— (@Kat13573937) February 4, 2019
LaPolt also stated that;
"Mr. Abraham-Joseph is a role model to the young people in this country, especially in Atlanta, Georgia, and is actively working in the community-leading programmes to help underprivileged youths in financial literacy."
However, ICE have other things to say.
The federal agency also provided E! News with a statement later in the day, saying that his arrest was a "targeted operation." It wrote; "He is unlawfully present in the U.S. and also a convicted felon. His whole public persona is false."
Feature image; Business Insider/HipHopDX