With the current charged political climate of #MeToo, which is bringing issues of consent, sexual violence, abuse and harassment to light on a daily basis, it's the PERFECT time for a show like Sex Education.
Netflix' new series is already critically acclaimed with it's standout teenage characters, incredible acting talents and refreshing humour, but what's just as important is the need to face sexuality and it's trials and tribulations at a young age.
The show is tackling imperative issues and somehow manages to be laugh-out-loud funny at the same time, how does it achieve this unique, charming quality?
Sex Education follows Otis Milburn, a socially awkward but sweet-natured sixteen-year-old (Asa Butterfield) and his sex therapist mother, played by the amazing Gillian Anderson.
Otis' school life is filled with iconic characters like Eric Effiong (Ncuti Gatwa), the most GAS LGBT+ character of all time, and misunderstood punk and resident badass Maeve Wiley (Emma Mackey).
Middle finger Maeve= our 2019 mood. You heard it here first:
After discovering his penchant for giving responsible and understanding sex advice, Maeve 'complex female characters' Wiley encourages Otis to set up his own teen sex clinic for some quick cash, and the results are HILARIOUS.
Among the vital topics faced with beautiful skill are abortion, transphobia, homophobia, mental health, consent, contaception, racism, sexism and toxic masculinity; we're in awe of episode three and the emotional rollercoaster of teenage life, told with humour and care.
Here are the best memes and reactions online to our new favourite binge-worthy show, PRAY FOR SEASON TWO IMMEDIATELY.
1. How pure Eric and Otis' friendship is:
Otis and Eric's friendship on Sex Education is such a wonderful, healthy, and pure example of male friendships. There is no weird toxic masculinity bullshit or homophobia. Just pure love. pic.twitter.com/PKR3xrF8Ki

— your middlest sister (@kissing_kate_) January 13, 2019
2. Complex LGBT character of colour GOALS
Wow #SexEducation really gave us the most layered and complex characterization of a gay teen of color!! He wasn't there for comedy relief or for tokenism. He had his own storyline and grew into this BEAUTIFUL, FIERCE, and joy-spreading angel

WE MUST PROTECT ERIC AT ALL COSTS. pic.twitter.com/VBXnkiCRud

— (@wiiissssss) January 13, 2019
3. If you know, you know *wink*
#SexEducation with no context pic.twitter.com/Wek6ZUHbkq

— (@pautanginath) January 12, 2019
4. The confusing time setting which seems like a 1980s/1990s/2019 mash-up:
Me trying to figure out what year #SexEducation is set in pic.twitter.com/0cTboh5Jgl

— Marvin Wiechert (@marvinius1) January 12, 2019
5. Is it USA or UK though?! They have Letterman jackets with British accents?! Help?!
is it the 80s? is it modern day? is it an American school? british accents? who bloody knows but it was still a masterpiece #sexeducation

— izz (@izzywilby) January 12, 2019
6. It's MY VAGINA: that iconic episode four scene has become a meme…
so i made a meme

only people who watched Sex Education can get this meme pic.twitter.com/qaXk1ZXmPs

— (@imokwithiKON) January 13, 2019
7. How HAWT Gillian Anderson is in the show as Otis' sex savvy mum:
Gillian Anderson turned at least 189 people gay each time she said a word on Sex Education.

— Stats Fandom (@Stats_Fandom) January 13, 2019
8. Gillian's LEWKS were 2DIE4:
shoutout to the wardrobe department for sex education for giving us these Looks for miss gillian pic.twitter.com/jFz89yrM2l

— nad WATCH SEX ED ON NETFLIX‼️ (@scullyitsmee) January 12, 2019
9. Eric and Adam's weird bully vs hilarious victim sexual tension
#SexEducation
me: there's so much sexual tension between Eric and Adam

detention scene:

me: pic.twitter.com/6vdC1G0JQu

— Soph (@main_soph) January 14, 2019
10. Maeve Wiley's distinctive Margot Robbie resemblance is HAUNTing:
Emma Mackey from Sex Education is literally Margot Robbie what the fuck. pic.twitter.com/STA9Ur0eA8

— BEEJ (@beejeymarco19) January 13, 2019
11. COMPLEX FEMALE CHARACTERS. Need we say more?
just finished sex education!!
and really love my girls pic.twitter.com/QMCFdTTRsG

— (@dayaa_i) January 15, 2019
12. The script is spit-out-your-tea levels of hilarity:
— no context sex education (@sexeducation) January 14, 2019
13. THAT video of 1980s Gillian Anderson teaching a workshop:
— no context sex education (@sexeducation) January 11, 2019
14. How damn WOKE it is:
#SexEducation TALKED ABOUT MENTAL HEALTH, RACISM, LGBTQIA+, HOMOPHOBIA, SEXISM (I.E TOXIC MASCULINITY, FEMINISM), PRO-CHOICE ABORTION, AND SEX OBVIOUSLY.

SEX EDUCATION IS *THAT* SERIES !!!! 2019 IS OFF TO A GOOD START. YES! MORE!!!
15. THE PLUMBER's SCROTE:
When Jean thought the plumber was her new client. Heeeeelp #SexEducation pic.twitter.com/jyjgJzCdMT

— (@meryred_) January 11, 2019
16. If anyone harmed Eric the internet would defend him til the death:
Who deserves better? #SexEducation #Netflix pic.twitter.com/U9sYcvc8p0

— (@fiacorpuz) January 12, 2019
17. I repeat: TIL THE DEATH
this is how i feel. #sexeducation pic.twitter.com/wVFjSUBeZv
18. Lily is top 5 strangest characters ever, but she deserves points for her bravery:
Sex Education: A MOOD. A WHOLE FUCKING MOOD pic.twitter.com/arKSL121m6

— (@itsmatthewnull) January 12, 2019
19. Aimee. Just…Aimee. Not to mention disturbingly honest portrayals of female masturbation:
this show. #SexEducation pic.twitter.com/LEcXuaCGjs

— Jasmyn Lawson (@JasmynBeKnowing) January 14, 2019
20. We choked at this scene, and arguably the funniest line of the script:
excuse me but this part was iconic #SexEducation pic.twitter.com/8k2yaZTruj

— annie (@gravityparker) January 12, 2019
21. Eric and Adam's pinky scene. The feels.
adam reaching for eric's pinky was such a cute moment #sexeducation pic.twitter.com/fAPoyHlGvi
22. GIVE US SEASON TWO AND NO ONE WILL BE HURT:
So when is season 2 coming out???
I need it. #SexEducation pic.twitter.com/hpnWmmNw5y

— 'octo6erblue (@1ife_peace) January 11, 2019
We gasped at that ending. Our hearts gave out, from pure weakness.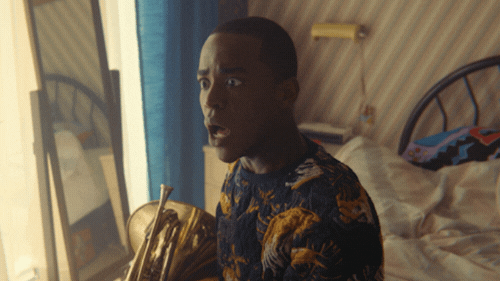 We're currently tweeting Netflix incessantly until they announce a season two.
MAEVE DESERVES HAPPINESS, OKAY?