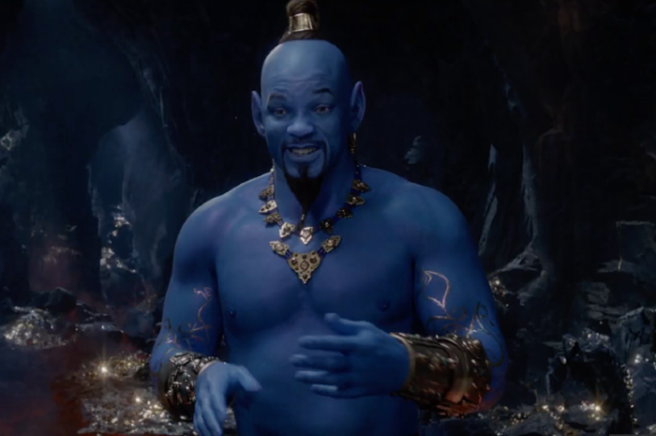 A few months ago, Will Smith appeared on the cover of Entertainment Weekly alongside the stars of Disney's live-action remake of Aladdin, and people had something to SAY.
Basically, he wasn't blue, and this deeply offended the general public. Like, DEEPLY offended. Scuba diving in the Pacific deep.
He took to Instagram to defend himself, writing; "I'm gonna be BLUE! This is how the Genie is in human or disguise form. My character will be CGI most of the movie."
Our first look at Will Smith's Genie in the live-action #Aladdin has appeared and he's not CGI! Thoughts?

(Via @EW) pic.twitter.com/drlCxyBwNc

— Fandom (@getFANDOM) December 19, 2018
However, during the Grammy's ad-break last night, a new trailer for the movie was released and once again, fans ain't happy.
Disney managed to sneak in a minute-long trailer featuring Naomi Scott as Jasmine and Mena Massoud in the protagonist role. Will Smith's turn as the Genie has EVERYONE talking.
The 50-year-old actor is under a lot of pressure, taking over the reboot role from Robin Williams' iconic performance.
Sharing his own reaction to the trailer release, Will wrote on Instagram: "I told y'all I was gon' be Blue!! Y'all need to trust me more often!"
When he accepted the role, the actor said: "Whenever you're doing things that are iconic, it's always terrifying. The question is always: Where was there meat left on the bone? Robin didn't leave a lot of meat on the bone with the character."
The 1992 animation starred Robin Williams, and became especially iconic for his role in the voice acting and music.
The memes have already begun flowing in, and we are entertained to say the least.
— Becks (@BecksWelker) February 11, 2019
Even Judge Judy was dragged into the hilarity:
Was down for that #Aladdin trailer the whole way thru til I saw blue Will Smith. pic.twitter.com/bSBf02ul2c

— Jv Joe (@JvJoeontheRadio) February 11, 2019
The reactions are pure gas:
Basically when I saw a blue Will Smith pop up on my screen #Aladdin pic.twitter.com/6SBGyeIZCh

— (@radshadeofblue) February 11, 2019
Paul Giamatti from the iconic Frankie Munez flick Big Fat Liar was even used:
me:
wonder if the new aladdin is gonna be good..

will smith: pic.twitter.com/LMmh125lHh

— Mekki Leeper (@MekkiLeeper) February 11, 2019
Viewers weren't READY:
I'm really curious to know if some viewers were ready for Will Smith as Genie in the new Aladdin trailer. pic.twitter.com/g4Gtq0WuE2

— Mavvy @ Game Design School (@BlackMageMavvy) February 11, 2019
The poor man is getting dragged, by his own Shark Tale character:
Will smith is better as a fish,
Just sayin#Aladdin pic.twitter.com/RSxB56ChpB

— (COMMISSIONS OPEN) (@weather0witch) February 11, 2019
We feel a bit sorry for him…
the bar I'm in had the most VISCERAL reaction of horror to Will Smith in the Aladdin trailer I'm screaming

— (@jpbrammer) February 11, 2019
Do you think he deserves all this slagging? We don't think so, but by GOD are we enjoying the memes. Keep 'em coming, people.
Aladdin is set for release on 24 May, so we'll see what the reaction is to the full flick in due course.
Feature image: ComingSoon