In possibly the strangest move the swimming gods have ever made, plans for the world's first 360-degree infinity pool have been released and everyone is majorly confused.
The landmark 600,000-litre pool will be built atop a 55-storey building called Infinity London by Compass Pools. People are obviously freaking out over it, because it's so damn strange.
The structure is apparently, "the only building in the world to incorporate a 360-degree infinity pool".
The pool will feature transparent sides and floors, and will be made from cast acrylic, so people can peek at the those swimming above them.
The building is set to be a five-star hotel, no surprises there, but it's prompted a LOT of questions. Mainly, how do get in and out of it? Seems like an important thing to know, don't you think?
One angry Twitter user wrote; "I don't know why this enrages me, but it does. How do you get in? How do you get out?
"this feels uncomfortably metaphoric"

— dr. talia jane (@itsa_talia) June 6, 2019
"If the water level gets too high does it just roll down the building like a giant goddamn ice cream cone? There's no shade and no slide. This is flexing for the sake of flexing. Worst pool ever."
Thinking about that infinity pool and how you're supposed to get in it and I've had a few ideas: pic.twitter.com/KkknINOH78

— DocHackenbush (@DocHackenbush) June 7, 2019
Some people had quite the creativity session while brainstorming ideas of how to get access to the pool…
Others pointed out that London doesn't exactly get scorching hot infinity pool outdoor weather many days of the year.
"how do i get out" pic.twitter.com/zaO5AWLfl0

— dr. talia jane (@itsa_talia) June 6, 2019
"I cannot stand looking at it, but I keep looking at it. It makes me feel like my knees have disconnected," added another Twitter user.
One concept that was suggested was the idea that you must swim in the pool until the end of time:
You don't. That's why it's called an infinity pool. You swim, forever…

— Eli Netshifhefhe (@Eli_Skywalker) June 8, 2019
Many people even compared the pool to the setting of a disaster movie, with tidal waves oncoming to ensure an even bigger challenge:
I would watch that film. All we need now is a storm approaching with high winds.

— Akiva Weinberger (@akivaw) June 6, 2019
Sharknado would be perfect for this type of atmosphere, according to another Twitter user. A storm plus high winds plus a tornado with a shark inside is possibly the greatest plot premise of all time.
I mean surely also a tornado with a shark in it

— Sally is not back til July (@Sally_Adee) June 6, 2019
Thank God, the designers have shared some needed answers.
According to Compass Pool's technical director Alex Kemsley, there will be a spiral staircase that rotates and rises through the water to allow the swimmers to enter.
He explained in more detail to HuffPost UK, saying that the solution is basically the same as that of a submarine.
"Imagine it like a tube inside a tube," he said. "A tube will rise from the floor in order to make an airlock. The water will then drain from it and the staircase will then rise up through that to allow you to get in and out."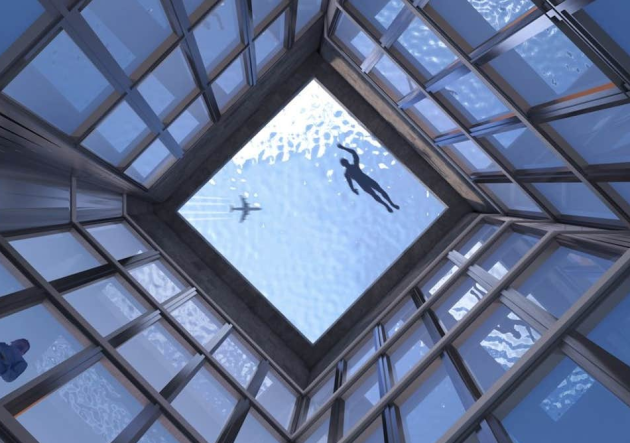 He said there will also be built-in anemometer to monitor wind speed in London's sky, while the water will be heated using waste energy from the building's air conditioning system.
It does sound pretty cool, we must say, but highly over-the-top. One might even call it 'boujée'. However, one man online pointed out that if the staircase fails, pretty much everyone swimming is doomed:
There's no possible failure mode with this design. If the staircase fails for whatever reason, people will be stuck in the pool with no way to get out.

— (@stanthemanchan) June 6, 2019
"If the staircase fails for whatever reason, people will be stuck in the pool with no way to get out." Sounds grim to us.
Construction of the pool would begin in 2020 if partners and contractors are confirmed for the job, so it'll be a while before we see anyone actually swimming inside the infinity pool.
They're braver souls than us, that's for sure.
Feature image: Compass Pools