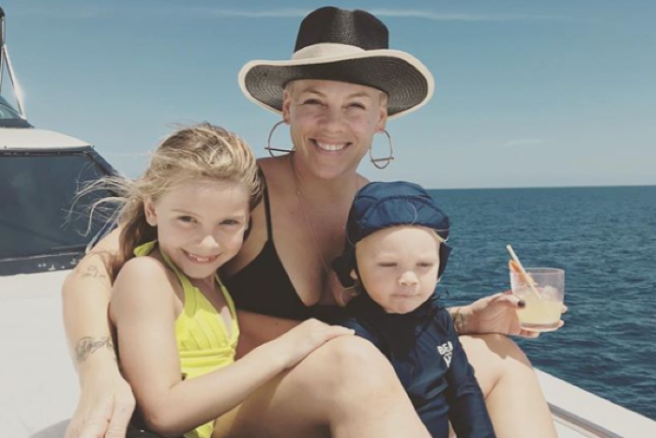 Pink has fiercely defended her children running through Berlin's Holocaust Memorial after she was criticised online for supposedly disrespecting the museum.
The Walk Me Home singer took to Instagram last night to share an image of her eight-year-old daughter Willow and two-year-old Jameson at the famous and eye-opening Memorial, and was faced with a barrage of angry replies.
Pink explained in her caption why it's important for her to capture her kids experiencing the famous landmark, despite others online thinking it was inappropriate parenting.
She wrote; "Berlin, I love you. #holocaustmemorial #panamarestaurant #cocktailclasses #history #herstory #worldtour."
The singer emphasised the fact that she's Jewish herself; "And for all of the comments; these two children are in actuality Jewish, as am I and the entirety of my mothers family."
"The very person who constructed this believed in children being children, and to me this is a celebration of life after death. Please keep your hatred and judgement to yourselves."
Back in 2017, The American architect who designed Berlin's Holocaust Memorial spoke out about how certain visitors treat the space;
"People have been jumping around on those pillars forever. They've been sunbathing, they've been having lunch there and I think that's fine," Peter Eisenman said to the BBC.
"A memorial is an everyday occurrence, it is not sacred ground." At the end of the day, the Berlin memorial has become a huge part of the city's lifestyle.
Pink has been to Holocaust Memorial before with her daughter, explaining in an interview with Reese Witherspoon how the experience was a massive learning lesson for Willow.
The youngster discovered that her grandmother was Jewish; "We went to Budapest, and we went to Berlin, and the Holocaust memorial. This could have been us," Pink said.
When Pink asked her daughter what her favourite city was, she replied;
"I think it was Berlin, because there was a wall and people were separated, and there was a war and people were killed, and now everybody's together and there's no more wall and there's no more war and that means everything that's bad can be good again."
Pink reminisced on the moment, saying; "And I'm just listening to her and I'm like, 'You're amazing and you're totally right: Everything that's bad can be good again.'".
The legendary singer has taken on "the parenting police" on multiple occasions, and is well able to tackle the criticism.
Feature image: Instagram/@pink