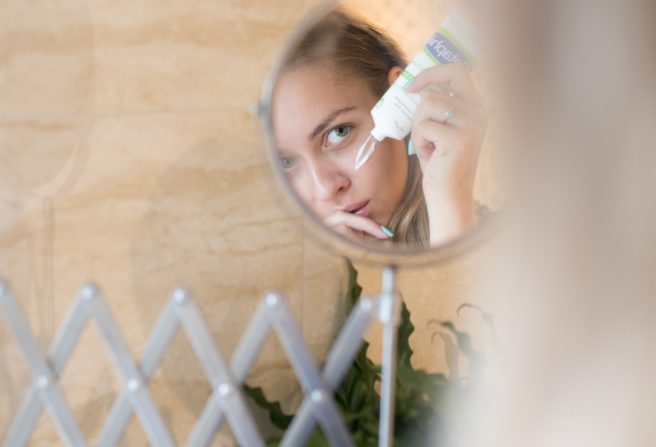 It's an age old argument – which comes first, the toner or the moisturiser?
It can be tough to get a clear answer, after all, toner closes your pores, so how can your moisturiser penetrate, but if you moisturise first, will your toner not wipe away the moisture? It's a tough world of skincare out there.
However, there is an actual order in which you should be applying your skincare products, and we have the details after some extensive research into far flung corners of the beauty community.
Okay, this could be bad news for low-maintenance girls, but you do have to adjust your morning routine and evening routine, they're slightly different. Here's the layout for morning and evening, and some tips from our beauty team and experts combined on what you should be using:
Evening:
1. Cleanser:
First things first, that makeup has got to come off. Using a rich cleanser in the evening can help budge stubborn foundation, and start the removal process of eye makeup – Liz Earle's Hot Cloth Cleanse and Polish Cleanser is a favourite and a classic – your mum probably uses it, you're going to want to use it, and so will generations after you.
You might think that's the end of the cleansing, but oh no my friend, there is more to come. A double cleanse is essential to avoid any build up of dead skin or makeup particles. If you have sensitive or easily angered skin, a gentle cream like Cetaphil will do the trick for the second cleanse, getting rid of any residue from the first cleanser and the last layer of grime from open pores. Cetaphil in particular works with the intention of not disturbing your skin's natural cycles, 'gently removing what your skin doesn't need, without stripping away the skin's natural protective oils, and without disturbing the skin's natural pH balance.'
A specific eye makeup remover can help you avoid the dragging motions from cotton pads that create premature wrinkles. Dermalogica's Soothing Eye Make-Up Remover is totally oil and alcohol free, and actively dissolves makeup, rather than you having to wipe at it until it come off.
Toner:
Toner finishes off the cleansers job, but you can get multi functioning toners that serve an additional purpose. If you have acne-prone skin, a toner with added Glycolic Acid is a must. It's the holy grail ingredient for eliminating dead skin cells to reveal brighter, new skin. Despite Deciem's recent drama, The Ordinary do an effective Glycolic Acid 7% Toning Solution that has been raved about by bloggers and beauty editors alike.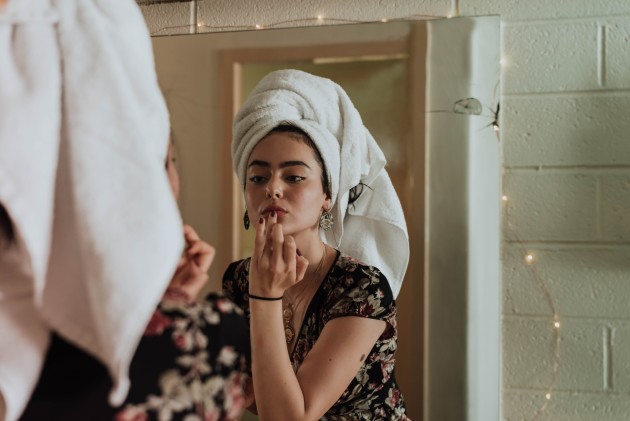 2. Serum:
Regardless of type, from Kiehls Midnight Recovery Concentrate to Sunday Riley Good Genes, you want to apply your serum early on in the skincare process, so your skin can really soak up the good stuff. Pro tip – never rub serums in to the skin, pat them on.
3. Eye Cream:
Most people end up using their eye cream as the last step on the road to sleep-ville in their night time beauty routine, but much like serums, these thin creams need to go straight on to skin without a barrier to work their best. Dermalogica's new Stress Positive Eye Lift is a high performance eye cream that targets visible signs of stress around he eyes – seriously, thank you Dermalogica.
4. Blemish treatment:
This one is optional for those abundant in blemishes. Apres-toner is the time for spot treatment, and if you're someone who rarely gets spots and one lone ranger has just erupted, then lucky you, you get to just add a dash of Sudocreme and be on your way.
However, if you're truly blemish prone, we prescribe something a little stronger. The Ordinary's Salicylic Acid 2% Solution is used directly on spots as a specific treatment, and this stuff works. Alternatively, if you used to have blemishes and have been left with redness or discolouration, opt for the Iluma by Image Skincare Intense Lightening Serum. It's lightweight, so wont clog your pores, and uses botanicals to brighten and correct skin tone to promote a clear complexion.
5. Night Moisturiser:
If you're spot-prone, a heavy moisturiser isn't going to do much other than up your spot count, but some French Pharmacy magic should do the trick – Embryolisse Lait-Creme Concentre is a light multi-functioning moisturiser that can double up as a primer to protect skin under heavy makeup.
However, for a big boost of moisture, go for the Trilogy Vital Moisturising Cream, which has the now-coveted ingredient Marula Oil for moisture, along with rosehip oil to decrease inflammation. It also absorbs in record time, so you can move on through your routine quickly.
Now, how you apply this step is important. Recently, there has been a surge in popularity for jade rollers. According to the gorge skincare experts at Ria Organics, jade rollers are an age-old non-invasive beauty tool that offer a calming facial massage. Jade rolling encourages lymphatic drainage and your body's own natural detoxification processes which brightens and de-puffs the skin.
It also boosts the circulation of blood flow beneath the skin to give you that sought after 'glow.' The increased blood and lymph flow helps renew skin and can help improve skin tone and smooth fine lines. Jade rollers also help your moisturizing products penetrate more deeply into the skin – at the moment, Ria Organics are including a Jade Roller in their Luxury Gift Set.
It's at this point that you can incorporate a facemask once a week or so – currently, the Seoulist Beauty Correct and Calm Instant Facial, from the brand's Head-To-Toe-Glow Box, is a favourite for calming minor breakouts and hydrating skin. If you prefer your masks from a pot rather than a packet, Lush's Don't Look At Me is great for light exfoliation and softening.
6. Face Oil:
Another optional step, a face oil comes in dead handy for women of all skin types, not just dry. All of Sunday Riley's oils are exceptional,everyone raves about their LUNA oil, but those with oily skin should make U.F.O. (Ultra-Clarifying Facial Oil) their first purchase from the pricey but worthwhile brand.
Plain old rosehip oil is also a favourite of many, and you can pick up a bottle of the cold-pressed oil from most health shops. However, if you want one specifically formulated and bottled by a skincare company, you can nab it from The Ordinary, who describe their 100% Organic Cold-Pressed Rose Hip Seed Oil as being rich in Linolenic Acid and Pro-Vitamin A, able to deliver an array of anti-ageing and photo-ageing benefits, as well as visibly improving other skin conditions.
Morning:
Your morning routine should be much more pared back than your night time routine, and include products that can work wonders under makeup, if you're a fan of a full face.
1. Cleanser:
Cleansing in the morning is vital to remove any oil buildup or debris and dirt from your pillowcases or bedding ( P.S get a silk pillowcase, it will change your life and your skin), and a cleanser with added benefits is a good call so that additions can be working away under your makeup all day. Eminence Organic Skincare have a dermalogicaly diligent Acne Advanced Cleansing Foam, which includes encapsulated salicylic acid to penetrate pores and prevent clogging, It's also a liquid to foam cleanser, so it's nice and refreshing in the morning.
2. Toner:
Pre-makeup, you want a light but mattifying toner, so your skin stays shine-free all day. In the morning, you just need a light spritz of toner rather than a deeply bathed cotton pad. Avène Cleanance Mat Mattifying Toner is a great one for brightening a dull, morning complexion and it manages your skin's sebum production throughout the day.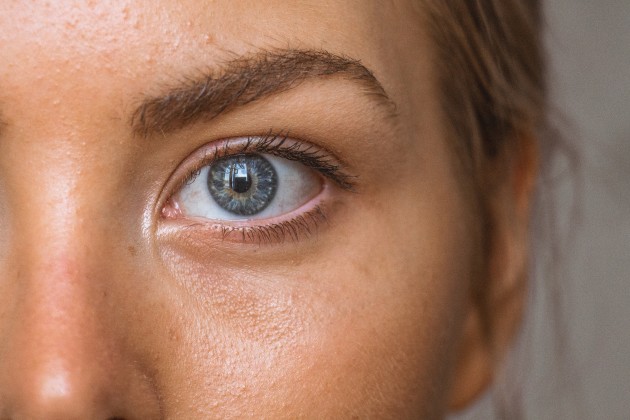 3. Moisturiser:
It's important that you skin gets a dose of moisturiser throughout the day, and the ultimate double act is a day cream with built-in SPF. However, it also has to be light enough that it can sit under your makeup and not interfere with primer and foundation application.
Image Skincare has an epic Prevention + Daily Hydrating Moisturiser with an SPF of 30, which we should all be wearing regardless of climate or season. If you need something richer, or are going makeup-free, Ria Organics Energising Day Cream combines avocado and rosehip oil (that key ingredient once again) along with Vitamin E and C, and hyaluronic acid, to plump, smooth and nourish the skin. Dont forget to use your jade roller for this step.
4.Eyecream:
Your eyes are the windows to the soul, so keeping them looking fresh is a must. You can use the smaller end of your jade roller to pat your eye cream into your under eye area, or lightly tap with your ring finger.