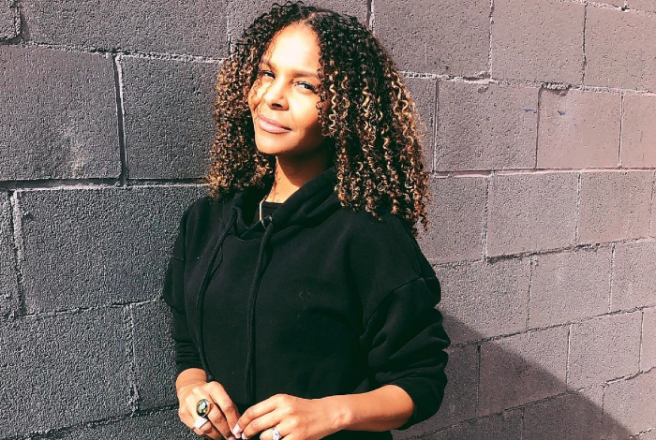 It really is the year of nostalgia; Between the Spice Girls, Westlife and Carrie Bradshaw, it's clearly comeback o'clock.
News recently broke that one of the biggest legends of the early 2000s is making a musical return, with her sophomore album expecting to be released before the end of 2019.
That's right gals, it's only SAMANTHA MUMBA.
We've all got more than fond memories of tunes such as Gotta Tell You and Always Come Back To Your Love, and soon we'll be hearing brand new music from the versatile singer.
We sat down for a chat with the woman herself, and once our starstruck fever calmed down, we managed to ask her a few questions.
There have been whispers of musical comebacks for many years now, considering her first album Gotta Tell You was released back in 2000 when she was only sixteen-years-old.
While the rest of us were figuring out creative ways to abandon school for a few hours and day-dreaming of Zack Morris from Saved By The Bell, Samantha was making CHUNES.
So why choose now to release her long-awaited album number two? Samantha is a woman of many talents, trying her hand at Masterchef in 2017, as well as appearances in Dancing On Ice and on ITV's Loose Women.
"It's been in the works for a couple of months, so for me I did Manchester Pride last summer, and I was so blown away by the response. As I was onstage I was literally like, why don't I have any new music to perform? This is stupid, like it's ridiculous. I'm one of those people who gets in their own way all the time. Even if I think of doing something, I'll think of 20 reasons not to do it. I thought, 'No, enough it enough'. I was afraid to do it again. The timing just feels good, and now I'm seeing that everyone is coming back, I thought, 'What is going on?' Hang on a second, I was coming back first!"
Needless to say, her fans are EXCITED.
Just found out @samanthamumba1 has a new album coming out this year.
2019 = Best Year Ever!#gottatellyou #body2body

— (@thomasistitanic) January 10, 2019
Damn right she was. Samantha's popularity with a range of audiences and people of all ages has to be noted, but why do so many listeners seem to relate to her?
"That's a great question, and I don't really know the answer. It's just one of those things, a nostalgia thing. I also think because I was so young when I started, a lot of people literally feel, and they have, like they've grown up with me. People have even stopped me in the street to say, 'Oh hey, how are you?' as if they know me. I've been around for a while, I think there's that kind of connection where people have really gotten behind me, it's like I'm a cousin of theirs. It's that kind of thing, it's brilliant."
Samantha still returns home to Dublin fairly regularly, and her little daughter Sage calls it her home too. We wondered if she had stayed up to date on Ireland's current homelessness crisis?
"It's scandalous, it's absolutely shocking. That's why I thought this Just Eat campaign was just such a no-brainer. I'd love if they could double what they did last year, which in itself was incredible. Even especially being home at the minute, and it's so cold, you just think, 'Oh my God', it's not right. There's a lot of young kids that are homeless, and it's heartbreaking. Being a mother now myself, it's just awful. You never know what goes on in someone's life, it can happen to anybody, you just never know what kind of bad things could come somebody's way. It can happen to everybody, and everybody should chip in," she says.
Samantha Mumba's Gotta Tell You about National Takeaway Tuesday!
Order on Just Eat tomorrow & 10% of the value of your order will be donated to @PMVTrust while you get 10% off #NationalTakeawayTuesday https://t.co/bxFXIBOW5I pic.twitter.com/VUU1gUi1Sd

— Just Eat Ireland (@JustEatIE) January 21, 2019
She's partnered up with Just Eat this year for their annual National Takeaway Tuesday to raise funds for the Peter McVerry Trust, who do vital work for the homeless. To date, Just Eat customers have generated over €50,000 for the Peter McVerry Trust, enough to move five people out of homelessness and into better futures.
Samantha comments; "This takeaway campaign is perfect, because you can order food on a Tuesday, get a 10 percent discount and chip in 10 percent to 2019's Just Eat charity of choice, the Peter McVerry Trust. So you're doing something good."
Does she notice the homelessness which is also prevalent in Los Angeles too, while she's spending her down-time there?
"Again, who am I to talk about anything, but there are definite areas. Santa Monica area and Downtown area, what I find is that a lot of the problems there are mental health. These people should be in facilities, in LA for me I notice, it's a lot more of that. Whereas here, it's more people who are getting a bad run of things. It just seems to be different circumstances, I suppose," she emphasises.
Her daughter Sage was born in 2015, with her husband Torray Scales. We're immediately jealous of Sage, because she's already heard some of her mum's new material;
'Nightmare before Christmas is her thing. We listen to that soundtrack, and I love it as well, so it's great. Sometimes she said, 'I wanna hear mummy's songs', she approves of the new songs, thankfully. She's very sweet, but other times she's like, 'Ok, back to Disney', she laughs.
"She says she lives in LA and lives in Dublin, she loves being home. She gets totally spoilt rotten at home. The back and forth is her norm, she doesn't know any different."
We couldn't let Samantha go without trying to get the dates for her new music to be released, it had to be done. For the good of mankind. Luckily, she was ready for the question;
"I was hoping to have a date already. I have to have it within the next two weeks, because I want my first release to be latest end of March, early April. So we're working on it. I'd love to have two singles out by the summer, and the album definitely will be later on in the year, but I'm on it."
Me: "Calm down, Shane. It's only January 4th."

Also me: "Okay, Samantha Mumba and Madonna, it's 2019–where are the new albums?!?"

— @buchlisss) January 4, 2019
One core difference between now and when Samantha started is, of course, the power of social media. She's aware of it as a tool, and this time it's going to connect her even more to her fans;
"That's what I'm enjoying the most, there's no random people telling me what I have to do, I'm fully in control of everything. That's kind of the most exciting part for me. The people I've been working with in the States are so creative, they're really pushing me out of my comfort zone."
In terms of teasing some collaborations in the pipeline, she's revealed a song with MNEK has been created, and we are SO HERE for it. The artist is known for working with some of pop's biggest names, among them are Dua Lipa and Zara Larsson.
"MNEK I have done work with, yes, I adore him. He's incredible, he's so talented. I have done one song with him, and I have my core group of people to work with. I think he'll actually be in LA again in another couple of weeks, so we'll do another session there as well. I'd love to bring him in with my people, because I think they'd all mesh really well. I'm excited for what that will bring. He's such a talent and a joy to work with."
Is there anyone she's especially got her eye on, in terms of new female talent?
"I just discovered her and I'm obsessed, it's Donna Missal from the US. She's incredible, I love her."
Samantha is 36-years-old, and time has only given her even more glamour, wisdom and thick-skin for the tough music industry.
Her new album is set to encompass that sense of maturity;
My new music is pop R'N'B, it's current to where I am, I'm a grown woman who's lived a life. I have a lot of things to say. I'm just expressing them, and hopefully other women will relate to it."
Samantha is the newest 2019 mood; let her reign begin anew.