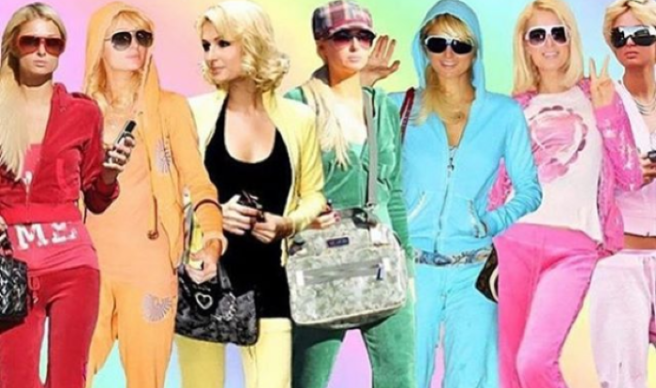 The noughties are generally considered to be one of the most sartorially starved eras, with chunky highlights and low rise everything.
Von Dutch trucker caps and the OC were life, and Paris Hilton reigned on high as the ultimate fashionista around.
If you were feeling fancy (or your parents gave into your perpetual pleas) you may have been the proud owner of a Juicy Couture matching tracksuit.
In an ode to the era, Kylie Jenner opted to don a black velour Juicy tracksuit on Instagram, reworked by high end designer Vetements.
The brand debuted some reworked Juicy pieces in their S/S17 collection, and they went viral, instantly becoming the most talked about pieces in the line.
While all laughed and appreciated the nostalgia at the time, the fact that the look has just been adopted by one of the most influential young celebrities in the world places the Juicy tracksuit firmly in the risk category of making a comeback.
Back in the noughties, style queen of the era Paris Hilton championed the tacky trend, wearing her rainbow of matching synthetic two-pieces with the hottest footwear of the time, high wedged flip flops.#NeverForget
The velour pieces were worn by every celeb worth their salt, everywhere from the red carpet to the Starbucks run.
The new version of the Juicy tracksuit is more streamlined, with a modern tapered leg and much less diamontes.
The new Juicy Couture bits are officially available to the public via ASOS, and one thing that hasn't changed about the coordinated athleisure wear is the hefty price tag, standing at about €300 for the set.
We wont have a cent left over for Juicy Tube lip gloss and a set of chunky highlights.