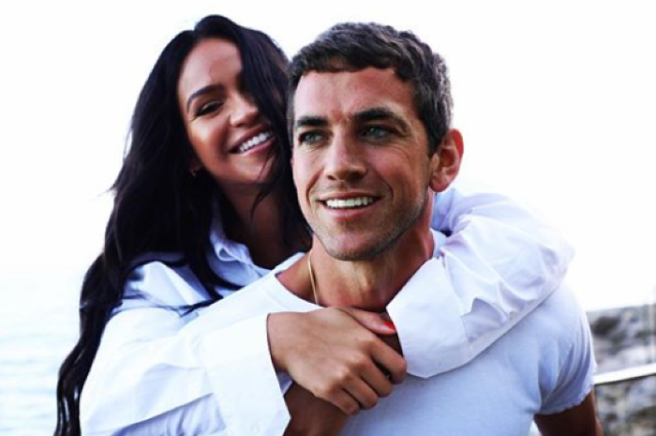 Me & U singer, Cassie, is expecting her first child with boyfriend of eight months Alex Fine.
The 32-year-old singer confirmed that she's having a beautiful baby girl on her Instagram, captioning the post of herself and Fine sitting in a car;
"Can't wait to meet our baby girl. Love You Always & Forever." Awww, bless.
Fine seemed equally as ecstatic about the news, sharing a heartfelt letter to his baby momma and his unborn baby daughter to his Instagram;
"I will be the first man in your life and will show you the greatest love and affection now and forever," he wrote, alongside an adorable image of the pair.
"I never thought my heart could grow bigger after meeting your mother… then I found out we were having you and I instantly felt a love that is so indescribable."
The professional bull rider and personal trainer for the Riverdale cast added;
"I promise to be at every dance recital, concert, sporting event, school plays whatever you decide to do I will be there and support you. I am your number one fan."
"I promise to be a man that you and your mother look up to and love. I will always listen and put the both of you first."
He swore to show a 'healthy relationship' to his baby girl; "I promise to never approve of any boy you like because they will never be good enough for my baby girl. Sorry."
"I can't promise that I won't embarrass you because I will give you so many kisses at every school drop off. I will be the Dad that never forces my opinions on you. I will love whatever you do in life as long as you're happy."
"I promise to love you every single second unconditionally until my last breath." By this point even we were in tears… "You're perfect to me and always will be."
He concluded the emotional note with;
"I promise to always keep you and the child first nothing comes before you," he wrote. "I promise you will be showered in kisses and hugs every single day. I promise that I will be the best father/baby daddy."
The baby news comes eight months after Cassie split from Sean 'Diddy' Combs, who she dated for 11 years.
The singer amde her romance with Fine Instagram official in December, posting a series of images of the gorgeous lad, who is BFFs with KJ Apa and Charles Melton.
Fine promised Cassie that he "will do every single thing in my power to support you and help you." Okay, we need some tissues in this office, I don't know about you.
Feature image: Instagram/@alexfine