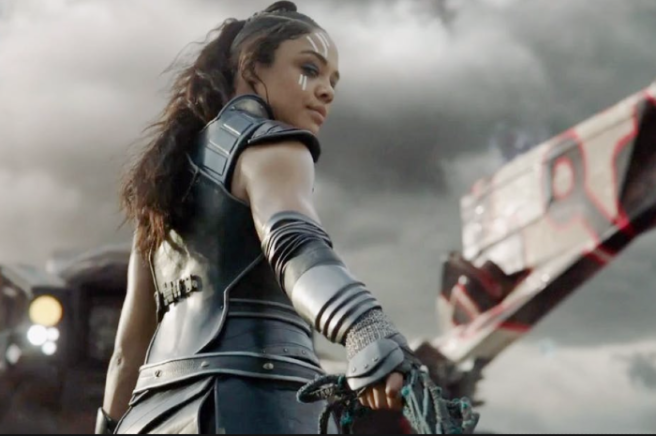 It's been a long time coming, but Marvel have finally unleashed the second phase of the MCU and it's diverse AS F*CK. We're in heaven.
One of the best snippets of superhero news we've heard from Comic Con (apart from Natalie Portman as female Thor, that slayed us) is the first openly LGBTQ+ hero arriving to the party.
Fan-fave character Valkyrie, played by the incredible Tessa Thompson, will have an LGBTQ+ storyline in the fourth Thor movie, due out November 2021.
The character is bisexual in the comics, and was portrayed by the actress in Thor: Ragnarok and Avengers: Endgame.
Thor: Love and Thunder will feature Chris Hemsworth as the titular character, Natalie Portman slaying as his female equal and now Tessa as Valkyrie. Wow.
Appearing at Marvel Studios' Comic-Con panel in Hall H over the weekend, Thompson announced to the audience:
"As new king, she needs to find her queen. So that will be the first order of business. She has some ideas. I'll keep you posted."
Tessa Thompson on Valkyrie: "First of all, as king, she needs to find her queen." #MarvelSDCC pic.twitter.com/XR1I2wsUNR

— Ryan Gajewski (@_RyanGajewski) July 21, 2019
When asked whether Valkyrie will have an LGBTQ+ storyline, MCU boss Kevin Feige told io9: "The answer is yes.
"How that impacts the story remains to be seen with that level of representation you'll see across our films, not in just Thor 4."
Feige added to Collider that Marvel fans will also be treated to an LGBTQ+ character in The Eternals as well: Long may it reign.
Marvel has come under fire for its lack of LGBTQ+ representation in recent years, with Feige promising work on developing this hole in the franchise:
"We have both ones you've seen and ones you haven't seen," he said.
A deaf woman-of-colour, Lauren Ridloff, was also cast in The Eternals, alongside Richard Madden and Angelina Jolie.
Simu Liu to Portray Shang-Chi in Marvel's 'Shang-Chi and the Legend of the Ten Rings'.

Directed by Destin Daniel Cretton, the film will also star Tony Leung as the Mandarin and Awkwafina. #MarvelSDCC pic.twitter.com/4eCCL9OHtm

— (@GeeksOfColor) July 21, 2019
The next Captain America (Falcon) is now a black man, a woman will play Thor, Mahershala Ali is starring in the Blade reboot and an Asian-Canadian newcomer Simu Liu snagged his role as Shang-Chi by literally annoying Marvel on Twitter.
Black Panther 2 is also in the works, and hilarious actress/comedian Awkwafina will join Simu Liu in Shang-Chi and the Legend of the Ten Rings.
the diversity that's in these upcoming marvel shows and shows is so important and wonderful to see. there's been a real lack of real and accurate representation in the mcu and it's about bloody time that they stepped the fuck up.

— (@sxpphicsansa) July 21, 2019
Much diversity, many feels. Thank Goddess they came to their senses and decided to include people, now we need women and people of colour, as well as people with disabilities in the writing room and director's seats.
Many fans are pointing out that the billion-dollar company waited until it was convenient and profitable for them to bring diversity to the table, but we just have to be grateful they finally stepped up.
Avengers: Endgame has just become the best-selling movie of all time, beating out Avatar in the box office.
Feature image: Instagram/@captainsvalkyrie