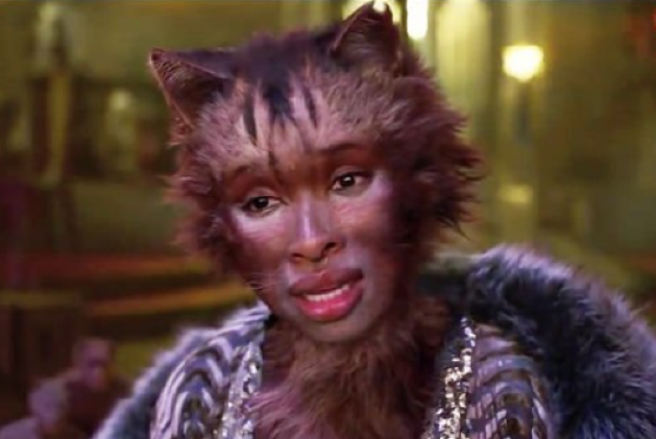 A sneak peak at Cats, the film adaptation of Andrew Lloyd Webber and TS Elliot's infamous musical, has dropped and the reactions have been less than positive.
The clip offers us the first footage of the all-star casts in all their feline glory, created using motion capture techniques which director Tom Hooper (The King's Speech) refers to as 'digital fur technology'.
The incredible cast includes Oscar-winner Jennifer Hudson, Jason Derulo, Judi Dench, Taylor Swift, James Corden, Ian McEllen, Rebel Wilson and Idris Elba, who all belt our the film's anthems.
Unfortunately, the first furry glimpses of the upcoming live-action remake have left some viewers unhappy after the feline creatures were described online as 'cursed' and nightmarish.
The transmogrified CGI human-cat hybrids were unveiled last night, with the Universal Pictures film landing in cinemas on December 20 of this year.
Hamilton Tony winner Andy Blankenbuehler choreographs the movie, having worked on the 2016 Broadway revival. Lloyd Webber has also apparently written a new song for the film.
This Christmas, you will believe. #CatsMovie pic.twitter.com/doKFWGAdpB

— Cats Movie (@catsmovie) July 18, 2019
Many viewers found the mutated dancing cats to be troubling to watch. The story revolves around a tribe of cats called the Jellicles, which faces a series of challenging life-altering choices one fateful night.
Fans didn't appreciate beloved actors in CGI feline form, especially the revered cinema veteran Judi Dench:
no one wants to see dame judy dench like this pic.twitter.com/29bVRFg7J0

— (@jrhennessy) July 18, 2019
Many Twitter users wondered why the stars didn't just wear catsuits, like in the stage show. The word 'abomination' was even used…
To whom does one report an abomination? A priest? https://t.co/zyiGi0LTIR

— Josephine Tovey (@Jo_Tovey) July 18, 2019
"A demented dream ballet" is possibly one of the greatest phrases we've heard yet:
I don't know why you're all freaking out over miniature yet huge cats with human celebrity faces and sexy breasts performing a demented dream ballet for kids.

— Louis Virtel (@louisvirtel) July 18, 2019
Important questions were raised:
Sincere Q: when the "cats" in the Cats trailer are wearing fur coats, like Judi Dench is, do you think those are meant to be their own fur, or are they wearing the fur of some other animal that they, the cats, have skimmed and fashioned into garments?

— (@pronounced_ing) July 18, 2019
Conspiracy theories were introduced:
theory: sonic, lion king and now cats are a coordinated effort by the government to deprogram furries through sheer horror – live action arthur is next pic.twitter.com/7vmxcX4OoS

— (@danielhowell) July 19, 2019
The working world ceased to exist for a moment from the distraction:
HOW THE FUCK ARE WE SUPPOSED TO DO ANY WORK WHEN THE ONLY THING ANYONE CAN THINK ABOUT ARE MUTANT HUMAN CAT MONSTERS

— (@TechnicallyRon) July 19, 2019
Some even wondered if the trailer was so horrifying, it could bestow a curse on all who watched it:
The Cats trailer cursed the next four generations of my bloodline

— Victoria Aveyard (@VictoriaAveyard) July 18, 2019
The only positive taken from the whole thing is that Grumpy Cat died just in time to never have to witness the terror:
in a way, i'm glad grumpy cat never had to see this

— Dave Itzkoff (@ditzkoff) July 18, 2019
We're not even sure if we'd make it through the cinematic experience of the movie, would you be willing to see the flick this December?
If it's in 3D, God help our souls. Fur-get it as soon as your eyes witness Taylor Swift as a cat wearing kitten heels.
Feature image: Universal Pictures/Instagram/@hugogloss