Deciding what to do on Valentine's Day can be a major chore, especially for single ladies out there.
It can be a frustrating time of forging through millions of Facebook events, restaurant promotions specifically for two and condescending Whatsapp messages of pity from friends in relationships.
Why not break a world record while trying to find love? Something for the CV as well as a future cuddle buddy would be IDEAL, and the event raises money for two great causes as well.
An official Guinness World Record attempt will take place at the Custom House Quarter on Valentines Day 2019, and it looks absolutely unreal.
If you're single and ready to mingle, or just want to go along for the laugh (or have a competitive streak that can only be tamed by breaking records…) make sure to head to the CHQ speed dating event.
They need more than 655 attendees to beat the current record, and one of them can be you.
Maybe you're looking for a future life partner to walk down the aisle towards (seriously) or perhaps you're just bored this Valentine's Day like millions of us, round up your single friends and join the queue for a night to remember.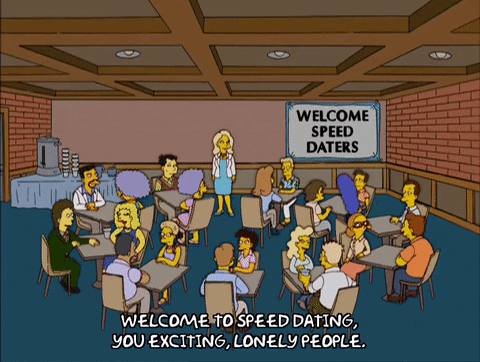 Tickets are €15 per person and include a drink on arrival (very much needed), snacks and entertainment on the night. If you show your ticket to EPIC The Irish Emigration Museum within three months following the event, you get two-for-one entry. Second date alert?
Take home some hilarious stories, not to be told at family events, and maybe even some romance? Who knows what lies in store.
All proceeds from your tickets will be going to Movember Ireland and Breast Cancer Awareness too, so you'll feel extra wholesome after finding a match made in…well, not heaven but close enough.
Get your tickets on Eventbrite, and based on your answers when registering you will be split into categories based on orientation and age (over 18s lads) to match you with your perfect date.As perfect as basic algorithms can manage at least.
Dates per person last three minutes each, so you'll get the sparks of love or just a few snippets of nice conversation/small talk, either way it's a win-win.
Matching will be done on a little app, where you can keep track of everyone you meet throughout the night. Think socially acceptable cyber snooping, like Tinder with a tracker.
A link will be sent out to the app via email in January, and your profile can be created before the event.
The app basically acts as your wingwoman on the night; when you meet someone you can scan their QR codes and swipe right or left after the date based on if you're into them or would rather hide in a bin than ever see them once more.
If you both swipe right, you'll receive each other's contact details, and then LOVE WILL BLOSSOM. Hopefully. If you remember your phone charger.
For more information on the event where you'll find your future baby daddy, follow the link. Y'all are welcome, enjoy breaking records for a good cause.