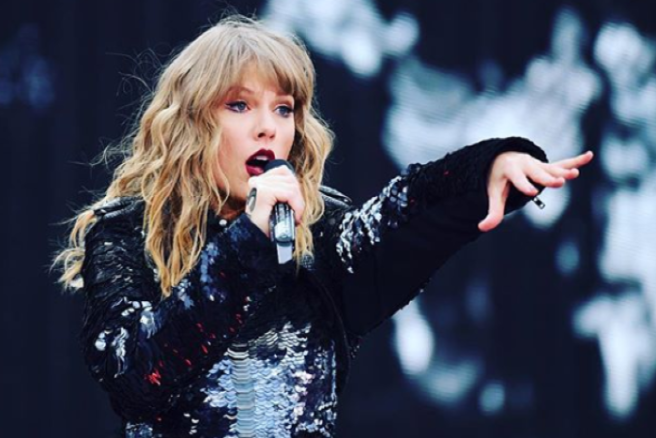 Pop superstar Taylor Swift has officially signed a new record deal with Universal Music, which marks her first signing with a major label.
Before this, all of her music has been released on independent country label, Big Machine. She signed with the small recording company, which is an imprint of giant UMG, when she was only 14-years-old, and her deal has now expired.
At the age of 28, she will now release her music globally through Universal Music Group.
The news came after she uploaded a photo to Instagram of herself posing with Universal executives Lucian Grange and Monte Lipman.
One year one from the release of her triple-platinum album Reputation, Swift underwent talks with every major record group, and requested more financial and creative freedom from a potential new deal.
This is massive news for Taylor, as she will now own all of the music which she records, resulting in the singer earning more money through sales and album streams.
Universal have also agreed to repay their artists with any money made from Spotify streams.
This is not the first time Taylor has campaigned for streaming service rights for artists; in 2015 she played a large role in persuading Apple Music to change how they pay artists.
#OnThisDayInMusic 2015, Apple Music reversed its payment policy, a day after #TaylorSwift said she was refusing to allow the company to stream her latest album 1989. Apple now said it would pay artists for #music streamed during trial periods pic.twitter.com/giHuWJBGYd

— Countdown Music Aust (@CountdownAus) June 21, 2018
The singer wrote a now-iconic open letter to Apple requesting that artists, producers, and creatives are fairly paid for their work:
"I say to Apple with all due respect, it's not too late to change this policy and change the minds of those in the music industry who will be deeply and gravely affected by this."
Swift has now utterly changed the streaming game, with Universal now accepting her terms in the newly arranged deal.
"As part of my new contract with Universal Music Group, I asked that any sale of their Spotify shares result in a distribution of money to their artists," she wrote on Instagram.
"They have generously agreed to this, at what they believe will be much better terms than paid out previously by other major labels."
"I see this as a sign that we are headed towards positive change for creators – a goal I'm never going to stop trying to help achieve."
"I want to express my heartfelt thanks to Scott Borchetta for believing in me as a 14-year-old and for guiding me through over a decade of work that I will always be so proud of."
.@taylorswift13 I had the time of my life fighting dragons with you! Best wishes for what's next! Xoxo @BigMachine pic.twitter.com/ORFh4dEfoX

— Scott Borchetta (@scottborchetta) November 19, 2018
"The best thing I've been lucky enough to receive is the dedication, trust and loyalty of the fans who have cared about the words and melodies I've written. My biggest goal moving forward is to make you proud."
Chairman and CEO of UMG Lucien Grainge spoke out to praise Swift for her work:
"Few artists in history approach Taylor Swift's combination of massive global hits and creative brilliance. She is so multi-talented, she can achieve anything. I have such enormous respect for Taylor, in particular for her use of her hard-earned influence to promote positive change.
"Because of her commitment to her fellow artists, not only did she want to partner with a company that understood her creative vision and had the resources and expertise to execute globally on her behalf, she also sought a partner whose approach to artists was aligned with hers."
Lipman, founder and CEO of Republic Records, added: "Taylor has not only captured the imagination of an entire generation, but has also redefined the paradigm of the modern music industry."
Swift's latest album Reputation received unprecedented critical acclaim before becoming the biggest-selling album of 2017, selling around 1.3 MILLION albums in just one week.
Congrats Taylor, keep fighting for fair pay and artists' creative rights. You do you, queen.