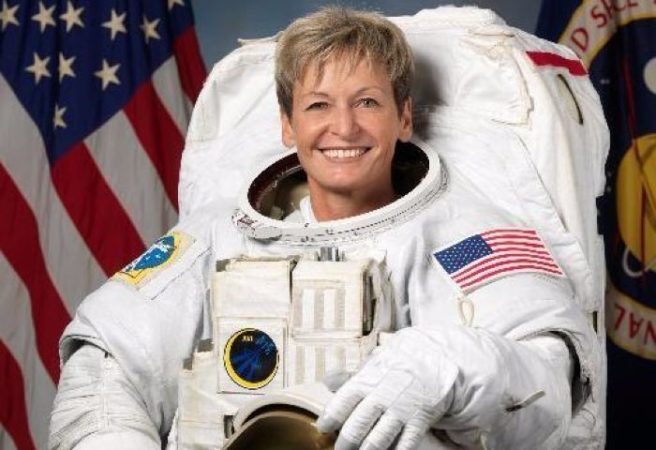 This female astronaut just broke an amazing record up in space
Esteemed astronaut Peggy Whitson has just set a major world record from the International Space Station.
The incredibly brave and admirable woman has been commanding the ISS for a total of 534 days, breaking world records for the longest amount of time spent by any human in space.
No big deal, just casually living in space for a year and a half.
It is one of those rides that you hope never ends. I am so grateful for all those who helped me on each of my missions! #LifeInSpace pic.twitter.com/msjKSg6WWH

— Peggy Whitson (@AstroPeggy) April 23, 2017
This is her third long-duration space stay in her long and well-established cosmic career.
'It's actually a huge honour to break a record like this but it's an honour for me to be representing all the folks at NASA who make the space flight possible, who make me setting this record feasible,' she told POTUS Donald Trump when he rang her to congratulate her on her feat.
'It's a very exciting time to be at NASA. We're excited about the missions to Mars in the 2030s,' she said, referring to Trump's earmarking of a Martian exploration in the NASA budget.
I love being on @Space_Station, and the science work is my favorite. Biochemistry, genetics, you name it! @ISS_Research has it all. pic.twitter.com/XenC4jggty

— Peggy Whitson (@AstroPeggy) April 24, 2017
'We actually have hardware on the ground being built for the SLS rocket for the test flights, which will eventually take us there. I'm so proud of the team.'
While residing in orbit, Dr Whitson and her team are attempting to understand how microgravity affects the human body over time.
'Peggy is a phenomenal role model for young women, and all Americans, who are exploring or participating in STEM education programs and careers," said President Trump, according to a NASA statement.
'As I have said many times before, only by enlisting the full potential of women in our society will we be truly able to make America great again.'