Revealed: Bruce Jenner as Caitlyn
It's certainly been a roller-coaster journey for the former Bruce Jenner.
Since announcing that she is a trans-woman a little over a month ago in an emotional interview with Diane Sawyer, she – not to mention the unveiling of her new identity – has been the subject of intense speculation.
But now the Vanity Fair edition which features the reality TV star and former Olympian as 'Caitlyn' has been released.
In the cover shot, which was taken by the renowned Annie Leibovitz, Ms Jenner looks sensational in a cream-coloured bodice. Sitting on a stool against a brilliant gold background, 65-year-old Caitlyn has her arms folded behind her back.
Her softly-curled hair is swept away from her face, and she sports subtle makeup.
Bruce has yet to appear publicly as a woman, although the Vanity Fair cover certainly marks a significant milestone in her transition.
In a minute-long promotional video, the star can also be seen sporting a sleek black dress with an elegant sweetheart neckline. Another snap-shot shows her in a full-length sequence gown.
In the same clip she describes the shoot as being "about my life" and "who I am as a person".
"It's not about the fanfare," she goes on to say. "It's not about people cheering in the stadiums; it's not about me going down the street and people going 'thatta boy, Bruce,' and giving me a pat on the back."
She adds: "Bruce always had to tell a lie. He was always living that lie. Every day he always had a secret, from morning til night.
"Caitlyn doesn't have any secrets. As soon as the Vanity Fair cover comes out… I'm free."
Caitlyn said in January that she has no plans to undergo gender-reassignment surgery, but that that may be an option in the future. An E! special tell-all featuring her family, Keeping Up With the Kardashians: About Bruce, aired in two parts last month.
Her stepdaughter Kim Kardashian, whom Caitlyn has praised as being particularly supportive, revealed to Access Hollywood also last month that she had "just recently met her" and that it was an "amazing" experience.
"She looked beautiful," Kim, who just announced she is expecting her second child, said.
"She was dressed up: beautiful makeup, beautiful hair," Kim went on to say. She further stated that seeing Caitlyn as a woman "felt really natural".
I'm so happy after such a long struggle to be living my true self. Welcome to the world Caitlyn. Can't wait for you to get to know her/me.

— Caitlyn Jenner (@Caitlyn_Jenner) June 1, 2015
Ms Jenner has already set up a verified Twitter account under her new name, and it quickly amassed hundreds of thousands of followers.
Caitlyn has six children from her three marriages: she has teenage daughters Kylie and Kendall from her third, most recent marriage to Kris Jenner.
Then there are two sons, Brody and Brandon, from a second marriage to actress Linda Thompson, as well as daughter Casey and son Burt from her first union with Chrystie Jenner.
​She also has stepchildren in Kourtney, Kim, Khloe, and Rob Kardashian.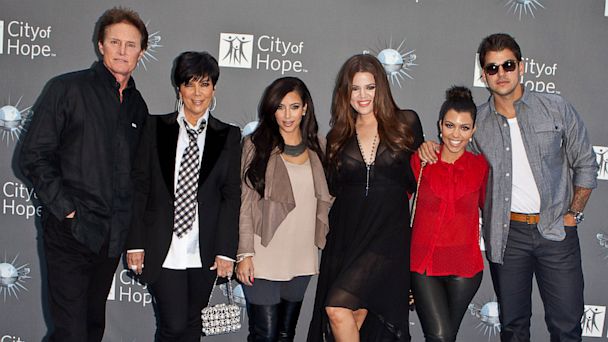 The July issue of Vanity Fair magazine featuring Caitlyn Jenner hits newsstands on June 9