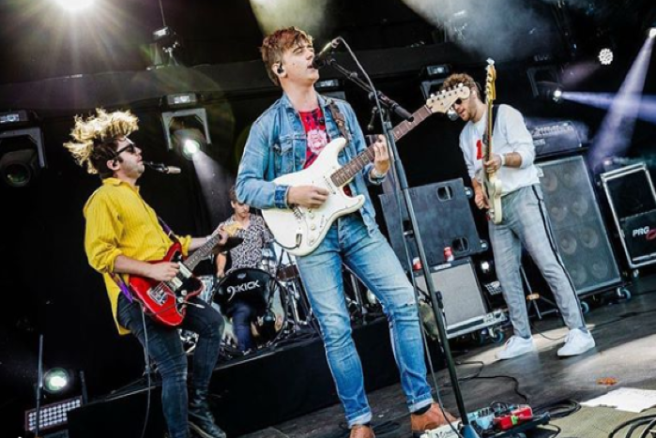 By Kate Brayden
The Academic have turned more than their fair share of heads in 2018.
The Westmeath indie rockers have toured with some massive names, released their debut album Tales From The Backseat to critical acclaim, and have played some of their biggest gigs to date.
We had a chat with Craig Fitzgerald, lead vocalist and guitar player from the band, to ask him about their fanbase, plans for 2019 and exactly how they capture that infectious energy on stage.
The four-piece band have an undeniably dedicated fanbase, clearly responding to lyrics lamenting youth and everything else that comes along with it.
The group is comprised of Fitzgerald, Matthew Murtagh on guitar, Stephen Murtagh playing bass and Dean Gavin on the drumkit, and they are all in their early twenties.
Tales From The Backseat is a hugely impressive debut, and features some of the catchiest songs around right now.
Choosing tracks for the anticipated first album appears to have been a careful affair, the boys recorded most of it in North Hollywood with music veteran Tim Pagnotta.
It's no surprise that the musical offering flew to the top of the charts on home soil.
WE ARE NUMBER ONE!

We just got the news that our debut album 'Tales From The Backseat' is NUMBER ONE in the official album charts!!! Thank you to every single person who picked up a copy. It's an absolute dream come true for us.
Craig, Matt, Stephen and Dean pic.twitter.com/jS3oQHAD94

— The Academic (@TheAcademic) January 19, 2018
The boys make music with big pop choruses and indie lyrics, and if you're hearing their songs for the first time, you'll know every word by the time the track concludes.
The lead vocalist and his bandmates have a clear talent for writing music which garner a youthful audience, but does he feel the fans will grow alongside the group?
"I definitely think so. In the first album, there were songs from when we were young, so it made sense. The songs seemed to resonate with younger people. We would like to mature our sound, and that would hopefully intertwine with the fans getting older."
They've clearly figured out how to find comfort on stage, effortlessly show-casing their extensive touring experience.
Craig describes the special ability of their fans to relate their own adolescence with that of the boys' through his lyrics;
"When we go on tour, we do a lot of meeting the fans, we like to go to the merch table and we like to hear what they thought and we get to say hello," he says.
"A lot of the time what amazes me is that the songs are just stories that were specific to me as a teenager, but it's amazing how someone can adapt the story to something that they're going through."
From tales of fake ID's on nights out, to the turbulent relationships and friendships which parallel adolescence, The Academic paint a relatable picture of the unique energy of that time in a person's life.
It's immediately obvious when you see the band play live that they value their fans' enjoyment of music, and nerves are a thing of the past.
The band met while still in school, and began gigging once they secured their drummer Dean.
Roughly five years later, the lads are essentially pros at what they do, but touring outside of Ireland can be a game-changer for any group or musician.
"When we started and we were playing shows, you begin shy and just want to make sure that you get up and play well," the 24-year-old cites about their initial shows.
"We've been given so many great opportunities to go on long tours, like month long tours in the States and Europe and the UK, and I think particularly when you support so many bands over the last couple of years we've become so comfortable as musicians together," he added.
"Even more so than when we were just in a shed playing together. I definitely think you lose that scared feeling that you had, because you just have to get up in front of people and play."
The band have learned some valuable lessons on the road, from song-writing to making friends in high musical places, to general tips on how to command a stage. They keep one important thing in mind in particular;
"That's one thing I think we've learned in the past year, is that if we're not afraid, people won't be afraid, and they'll have a good time with us. When we toured with The Kooks, we just kind of watched them and loved how they were just having fun on stage and it wasn't too serious."
"One thing that I always try to do when I go on stage, is to break down the wall and say let's not be afraid to make a fool of ourselves."
"The whole thing is crazy, like the fact that people are staring at you playing music. They drop their barrier when they see you having fun."
Confirmed; we stared, we dropped our barrier, we had fun. Then we bought the t-shirt…
The lads give a lot of time to their fans, and are both aware and respectful of how powerful a fan's love of music can be;
"We appreciate everyone for all their weird and wacky stuff. Music makes them feel a certain way and we appreciate that no matter what it is or whatever song it was that made them attached to us."
Despite their youthful tracklist, high-energy set and the fact that they've only released their debut album this year, the lads have been penning tunes since they were in their mid-teens.
Craig reminisces on the tricks and tips of the trade which his years of the music industry has taught him;
"I've been writings since the age of about 15/16, and a lot of those songs are actually on the first album.I think in the beginning, so it's five years now of song-writing experience, there's a naivety and you're not afraid to do anything. Then you start picking up tricks," he muses.
"The one thing I have learned now that we've been a band for so long, is that I always want the music to be catchy. One thing I've learned is that if it's catchy, don't be afraid of it."
For a band who are considered new to mainstream audiences, they have a level of maturity worth noting, especially when it comes to songwriting;
"That's what people want to come and see, they want to sing along. You shouldn't lose your innocence about song-writing, you can still think of crazy things and put them in," the vocalist says.
"The beauty is in the imagination, use it, and don't be afraid to think outside the box. It's very important."
When we asked Craig where he would be if The Academic was never formed, his answer remains musical, unsurprisingly.
"Maybe I would have finished college. I went to BIMM, so I would probably work in a musician's field. Probably in the studio, that was nearly just as strong as songwriting for me. I enjoyed playing with bands too much, so I made that decision." Thank God he did, for our sakes at least.
After catching their big break after releasing Different from their first EP, radio stations took notice, and it all took off from there. The rest was indie-pop history, but do the lads ever disagree with each other?
You know us, we live for some drama…
"We're not on the same page all the time (laughs). We usually are in sync when we know a song is good. If a song is obviously screaming out 'Hey, I'm a good song', we're all on board. If there's a more moody song or more emotional song, that's when you can have arguments."
"We've always written songs together and made sure that everyone's happy. We'd never really go ahead with a song if one member wasn't fully happy." Creating absolute bangers and remaining diplomatic? Fair play boys.
We also wanted to know if there's a band out there that Craig would join, you know, if The Academic didn't exist of course. Which would be tragic.
"That's a really good question, I've never been asked that before. We have a band on tour with us as support called Inhaler."
"The reason I enjoyed that band is that it's so nice watching them because they're like us four years ago. I'd love to step back to where they are now, getting support slots, heading out and being brand new again. That would be fun. Or else Fleetwood Mac would be great."
If you're wondering what 2019 will bring for the boys, it's some exciting new shows and a return to the studio to nail down some of the material written on the road.
Tickets for our return to the Iveagh Gardens are on sale at 9AM tomorrow morning!!! Act fast! pic.twitter.com/bB5N0Py529

— The Academic (@TheAcademic) December 11, 2018
The band will be making a big return to Iveagh Gardens in July, one year on from their concert at the famous outdoor venue, with some brand new (as yet unrecorded) music.
"What I would say we're really excited about at the moment, is that we haven't had any studio time in about a year. We've been writing songs on the road but we haven't gotten to play them at all."
In terms of their landmark moments, their most recent gigs remain their favourites;
"I'd have to say, I think we're all pretty blown away by the weekend we've just had. Two Vicar Street gigs and a headliner in Limerick, it was three in a row and every night was brilliant. It got better every time. We're all still on a high."
The Academic have made some incredible memories in 2018, but they're just getting started.