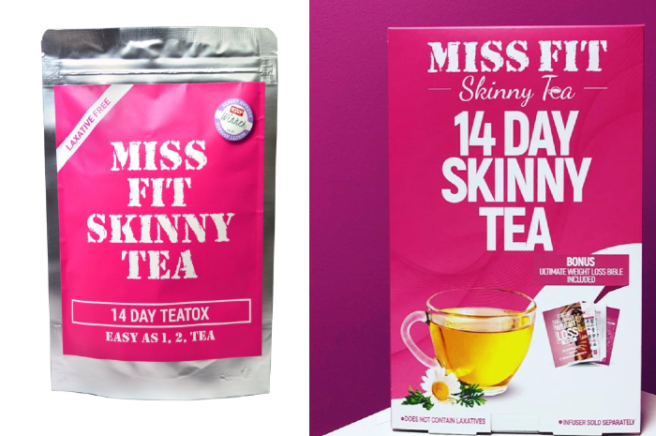 The Food Safety Authority of Ireland have recalled four Miss Fit Skinny tea and coffee products over 'misleading labelling'.
Miss Fit Skinny Tea 14 Day Skinny Tea, Miss Fit Skinny Tea Max, Miss Fit Slimming Coffee 14 Day Fat Burning Instant Coffee and Miss Fit Skinny Coffee Max are the products which will be recalled.
The FSAI released a statement on the matter, saying; "All batches of the above four Miss Fit products are being recalled due to incorrect, misleading and ambiguous labelling."
"Amongst the labelling breaches are health claims which are not authorised and are therefore misleading to the consumer."
Products from the brand have been asked to be removed from the market. Shops have been ordered to remove the detox products from the shelves and display point-of-sale notices to correctly inform customers.
There has been a huge amount of backlash in recent months to 'quick fix' weight loss brands such as these, with the head doctor of the NHS condemning weight-loss advertisements and Jameela Jamil fronting a campaign against them.
After rapper Cardi B endorsed the teas, which contain ingredients akin to laxatives, Jamil wrote on Twitter: "If you want to "curb your appetite" eat some damn green vegetables or have some nutritious natural vegetable soup."
"Don't drink these "detox" teas. You need fibre! Not something that honestly just makes you have diarrhoea the day you take it and constipates you in the long run…"
10 year challenge. Because this is roughly how long you spend on the toilet when you drink laxative "detox" teas… #howharddiddetoxteashityourbumhole pic.twitter.com/xbuBDkRsPd

— Jameela Jamil (@jameelajamil) January 15, 2019
They were recalled due to the misinformed labelling, and it can't be a negative thing for young women and their mental health that action is finally being taken against them.
Hazel Wallace, better known as The Food Medic, claims that;
"Some of these detoxes are really dangerous and not healthy at all, especially some of the skinny teas," said Hazel, who is a junior doctor and a certified personal trainer. and therefore has healthcare and nutrition experience.
"Although they claim they are natural many drugs are actually from nature but it doesn't make them naturally good for you. Your liver does the detoxing for your body you don't need a green tea to detox,' she said.
Wallace also commented on senna leaves, a laxative which leads to dehydration;
"Some of these skinny teas have laxatives which we actually use as doctors to prescribe to people who are severely constipated, so clearly you are going to lose weight if you not absorbing any of the nutrients and its just passing through your system."
"This can cause so much damage to your digestive system, you lose water, you lose nutrients and you can damage the gut lining."
A petition from Jamil has been signed 138,000 times already, asking for celebrities to be banned from endorsing weight loss products.
The Kardashians especially have endorsed numerous weight-loss products, gaining huge criticism from Jameela Jamil especially as well as healthcare professionals. Many have even claimed that they encourage body dysmorphia.
Detox teas have previously faced backlash after a string of unplanned pregnancies happened when the effectiveness of the contraceptive pill was reduced due to the laxative effects in the detox teas.
Be extremely wary of what you're consuming in terms of nutrition, weight-loss is about health, exercise and a balanced diet, not running to the loo every ten minutes.
Keep an eye out for valid healthcare professionals' advice on the matter, and make sure your emotional and mental health is also prioritised.