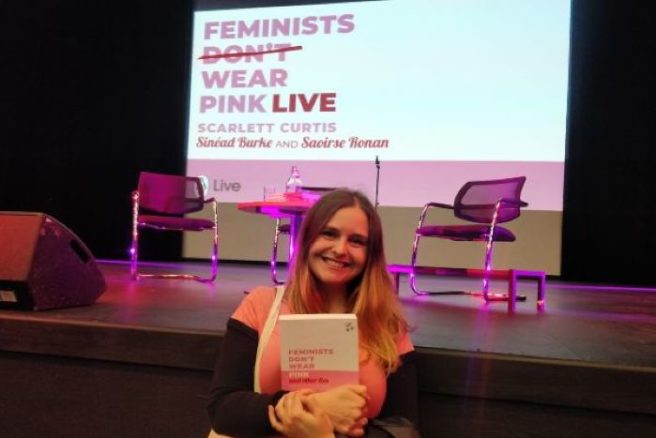 By Anna Murray
I was your typical Irish mammy heading to the O'Reilly Theatre on Thursday night. I wore pink and told my sister to wear pink too. We weren't the only ones, of course, because it turns out feminists DO wear pink but they also wear anything else they want. I brought my book and made my partner take a million pictures. I gushed at the number of lads who attended because Irish men are UNREAL allies. I wished my 5-year-old daughter was old enough to attend and understand the significance of being in the presence of these gals who were changing the world, one interview at a time.
Scarlett Curtis is as gorgeous, adorable and fierce in real life as she is on her podcast. I was so excited to see Saoirse Ronan, THE voice for my generation of Irish women in the public eye. I cried because Sinéad Burke, Irish fashion writer, primary school teacher and activist blew me away with her strength, beauty and mesmerising knack for public speaking.
The two guest speakers were fresh off the Met Gala pink carpet, Sinéad being the first EVER little person to attend, dressed in stunning Gucci. After a hilarious set by comedian Grace Campbell (which centred around clitorises and cornflakes), the three speakers delved into a discussion about representation in high places within the fashion and film industries. The determination in their voices made me confident that the world is becoming better at accepting, better at encouraging and an all-around better place for my daughter and her generation to inherit.
Here are some of the key points I took away from the Feminists Don't Wear Pink (And Other Lies) podcast, live from Dublin.
Irish women are a force to be reckoned with
Sinéad silenced the room by asking us to 'remember this time last year?'
You could feel the intake of breath. "We didn't know and the loudest voices told us it was going to be a no," she said. That hit hard and many of us felt the familiar sting of Repeal tears we had held back over and over again last May. Scarlett told us that the women of Ireland gave her hope and comfort with their bravery as she sat in her apartment in New York, at a time where American women were feeling less valued every day.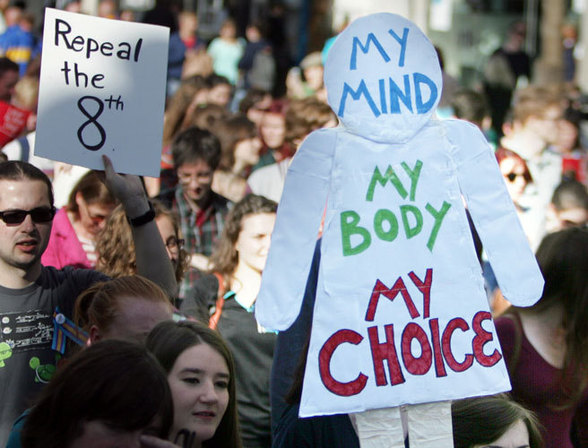 Feminism MUST be intersectional
If we took anything away from the evening, it was that intersectional feminism is the only feminism. Try not to focus simply on the disparities between men and women. Listen to people of colour, the disabled community, the LGBTQ+ community and any other group that can use feminism as away to gain support and understanding. Learn what you can about the struggles of individuals and as Sinéad pointed out, go looking for it. Follow Instagram accounts that promote the visibility and representation of everyone. Why wouldn't we join forces to create this immense power that's hell-bent on the representation of ALL kinds?
Confidence Is EVERYTHING
Saoirse Ronan spoke about the strong women in her life and how they helped her believe she could do anything. Scarlett Curtis spoke about surrounding herself with like-minded, strong women who encouraged her feminist journey. Sinéad Burke encouraged us to ask for things want. A woman won't apply for a job if she only meets 90 percent of the required criteria. A man, on the other hand, will give it a go if he meets 10 percent. "Think you're the shit because everyone else does," she told us.
We need boys
Men and boys have a central role to play in the strive towards gender equality. Not simply as allies nodding their heads in agreement, but to improve their own lives too. Two fab suggestions were offered when an audience member asked how she could teach the feminist message to boys in her primary school class. Sinéad Burke, a primary school teacher herself, spoke about the significance of representation in books, workbooks and classroom materials.
Have a poster showing a diverse team of firefighters hanging on your wall when teaching about jobs and careers. Though it may take more time, print off worksheets that show the diversity of all kinds. Small things matter. Scarlett suggested that since many of us have discovered feminism within our own struggles, to explain to boys how this ideology will personally benefit them by creating a world where their vulnerability and individuality is cherished.
Of course, I could go on and on about this panel, that I was lucky enough to see. I could talk for days about the importance of these discussions and to makes sure there are ALL KINDS of people at the table when they happen. We all deserve to be at these tables and in these rooms. The world needs the input of everyone to become a better place.