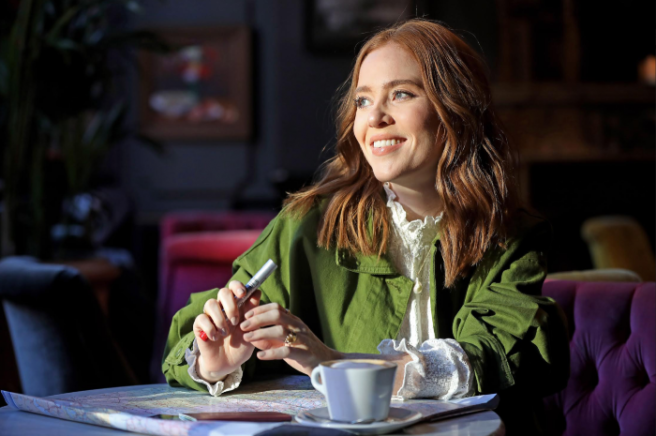 Nowadays, when some of us need career and lifestyle guidance, Instagram has taken over as one of the leading platforms to imitate those whose lives we'd love to lead.
However, when it comes to so many of the primary influencers, the image looks pretty far from reality, not to mention relatability.
Luckily for us, BBC broadcaster, style guru and journalist Angela Scanlon is renowned for her Irish charm, her gorgeous style and her affiliation with Irish brands.
From studying business in college to making the big move across the pond and making it as a stylist and broadcaster, we could DEFINITELY use some of her advice.
We stopped by the launch of Aer Lingus and Bank of Ireland's collaborative project; the new Aer Credit Card, to chat with Angela.
Acting as their new brand ambassador, she gives us some travel tips, career path wisdom and self-care supplements. The card itself sounds like an unreal choice; with two free lounge passes, two priority boarding passes and two return flights to Europe once you hit the 5000 euro spending amount as well as travel insurance on offer. The gal chooses her partners wisely, that's for sure.
As well as boosting Irish companies, she splits her time between London and Dublin while taking care of her daughter Ruby Ellen, who turns one this February.
Since her time at Xpose and Off The Rails back in 2008, Angela has gone from strength to strength on her career path. She now works as a BBC presenter for The One Show, Robot Wars and acts as a panellist for big UK names.
How did she go from studying business to practising fashion guru? Picking out stunner styles is a lot harder than it looks, we suspect…
"In a nutshell, I studied business, I then set up a stall in the loft, I started personal shopping in Dundrum and from there I went into TV as a pundit doing fashion news and trends. From there I knew I really liked TV, and I started pitching fashion programme ideas at the time and then Oi, Ginger, which was the first documentary I did. It all kicked off from there," she says.
We're taking notes in our pristine fashion bible for future reference, and are working up the courage to enquire about her haircare routine. (Those auburn locks are just mesmerising)
"It was a slightly zig-zaggy way of doing things, but I think that was an absolute blessing. At the time I thought 'Oh God, it's taking me ten years to figure all of this out', but actually having had that path often gives me a different perspective and different approach, which I think is a good thing."
'I always say to people who think they've done the wrong thing, having studied the thing that they want to do ultimately, that actually there are ways of turning that into an advantage. It's never too late," she continues.
" thought, when I got to London that I was too old to get a break there. You had to be 22 and kind of fresh, whereas I was almost 30 at that stage when I went there. It's never too late to do what you want to do, but start somewhere."
The presenter has been open towards her social media followers in the past when it comes to feeling burnt out, trying to make it in an alien city.
One Instagram post in particular saw Angela open up about life as an Irish gal abroad, looking to make a name for herself;
"London was so SO alien to me at that point , I was coming over here with a smile on my face knocking on doors and showing up every single day. Meanwhile I was working for myself in Ireland, trying to build a career in both countries and not really believing I deserved one in either. I was so hideously lonely, I couldn't find my way around the Tube, I felt constantly out of my depth & I was riddled with self-doubt. I was blindly focused and so terrified I would fail that I didn't have time to do anything on a personal level… my relationship was under strain, my friends had lost me and my family, although supportive, did wonder what the hell I was doing it for," she wrote.
"I was not even 30 and was close to being burnt the f*ck out! I felt like it was too late to build something, too late to "get a break", too late to make a go of things & I spent a lot of time deeply regretting the lack of focus I had in my twenties. Really it was a lack of confidence, a lack of belief in my own ability."
It's this kind of honesty that draws her followers to look up to her as a type of down-to-earth mentor. She describes her life in London fondly, but stays true to her Irish roots.
"I do a lot of work with the London Irish Centre, which has Kerrygold and Tayto Irish crisps and McCambridge bread and Cadbury's chocolate which is better here. Most things you can get online, but it's more the familiarity, the feeling of always bumping into someone you know in Dublin. That small-town-feel that Dublin has is really quite unique. Not just if you're Irish, that's how it feels if you come here. One of my girlfriends came over to Dublin for a five-day break and spent the last three days looking for a job here so she could stay."
Join us to celebrate powerful Irish women for St Brigid's Day this Feb 2nd – hosted by the incredible @angelascanlon

Performances by:
Tara Flynn
@LambeLisa
@natalyaofla
@OliveGroov
Eimear McGeown
Anne-Marie O'Farrell

BOOK: https://t.co/kxrcPSrJAc pic.twitter.com/HXhPYiY6wE

— (@LDNIrishCentre) January 15, 2019
The woman is loyal to the Emerald Isle by the sounds of things. What drove Angela to make the big move?
"There's loads of work here (in Dublin) but it's individual to everybody. I chose to move abroad because I was kind of doing Ireland and the UK at the same time, it was never a deliberate move. Different people move for different reasons. I certainly think the pace is very different, but I do miss the familiarity of having your mum or dad up the road. You take for granted that we're a new generation who have moved to England who have a lot more opportunities than our parents would have had. You kind of forget that there is a massive amount of vulnerability over there. There's homelessness and addiction problems that many Irish people struggle with over here, but London is a big city and can be very isolating"
How does she follow her rules of self-care now that she's a big name? She claims that bath-time is where she finds her chill;
"It's kind of about being really disciplined with yourself about giving yourself a little bit of time. t can be a bit of a luxury, but being in that for, whatever, 20 minutes, and using a face mask. That ritual of putting something on and for ten minutes just hitting pause, I think that's really important. I've started running again, which I haven't done for a long time. Everyone has to start somewhere."
Be it the start, middle or end, Angela's got it covered. Please be our life coach?
For more information on Aer Lingus and Bank of Ireland's new collaborative Aer Credit Card, click here.