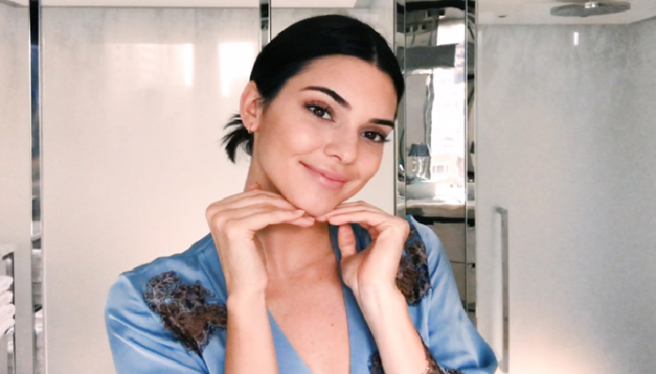 You've most likely seen at least one of Vogue's infamous make-up tutorials, celebrated for their chill, relatable vibe… NOT.
We obsess over how gorgeous models get their looks, attempt to emulate their radiant beauty and try (and fail) to copy their stunning #lewks.
The rich and famous have world-renowned make-up artists following at their heels, making sure they look their best at all times.
We, on the other hand, roll out of bed and can only pray that we manage to look semi-decent instead of the apocalyptic zombie which was passed out in bed only moments earlier…
If I can remember to put toothpaste on my toothbrush instead of moisturiser, I think I'm winning.
These celebrity gals, however, are often expected to look #RedCarpetReady 24 hours a day, which sounds exhausting, to be honest.
We decided it was time to watch these notorious Vogue Vids to study the movements and cosmetic habits of faces such as Bad Gal Riri (she doesn't need make-up, make-up needs her), Emily Ratajkowski, Kendall Jenner and Bella Hadid to see just how relatable these ladies are.
We were inspired by the hilarious Maddison Bush, who uploaded parody version of a make-up tutorial while attempting to imitate Vogue's famous faces.
Hint: not relatable in the slightest. Not even close to it.
1. First up, Bella Hadid.
As we all know, Bella is one half of the supermodel sister duo of herself and Gigi Hadid, AKA: two of the most ridiculously stunning human beings on the planet. We actually doubt if they're human… they look like they were made in a laboratory for beautiful people. No fair.
From the very start of these videos, it's already hard to find anything in common with these women. They are all doing their beauty regime in unnaturally aesthetic bathrooms in luxurious hotels or mansions, whereas we're struggling to find a mirror that isn't covered in foundation smudge marks, or are possibly in the queue for the house bathroom for the last 35 minutes.
Ah, the life of regular people. So quaint.
From the second models such as Bella face the camera, it's difficult to choke down the fact that they aren't wearing any make-up because they already look damn FLAWLESS.
Like, wig = snatched from the beginning. *sigh*
The videos are also alarmingly short, considering most of us take at least 15 minutes to put our faces on. The fact that famous faces only take 5 minutes to look that good is frankly both disturbing and insulting to my pale palour.
(I've been asked if I am anaemic countless times, I've just started saying yes now, it's easier).
Bella begins by saying "models can do their own make-up too!" Good to know, Bella. Good to know. You're very normal.
She continues by saying, "I look really tired because I've been travelling for two months straight." You poor gal Bella, travelling the world in private jets and glamorous clothing must be devastating to your complexion.
So far, oh so relatable.
Bella uses concealer, a contour stick, highlighter, brow pencil, lash primer and mascara to complete her look in five minutes.
By the end of the video, she's essentially ready for the Victoria's Secret carpet, minus the wings. It's offensive. *cries in poor*
Relatability level: 2/5.
2. Kendall Jenner. Also known as 'KANDALL JANNARRR'.
She's already using products we can't even dream of affording without selling our organs illegally online, so the relatability factor is null from the beginning.
She claims that she "learns a lot from being on set." Us too, Kendall. We frequent photoshoots on the reg constantly, it's the cross we bear.
She lets us know that she eats grilled cheese sandwiches, which is comforting for roughly 4 seconds.
The Kardashian uses Estée Lauder foundation in nude, concealer, and mascara and finishes by blowing a kiss to the camera.
The fact that she hasn't poked her eyes with a mascara brush or choked on powder yet separates this gal from reality.
My lungs still haven't recovered from the powder incident of '09, where my mother's inhaler had to be used.
Relatability level: 1/5. Sorry Kendall, but your bathroom alone is next level boujee.
3. Lili Reinhart.
Our third gal is Riverdale's gorgeous Betty Cooper herself, Lili Reinhart. We have high hopes for this one, seeing as her social media presence is all about positivity and female empowerment, as well as Cole Sprouse, AKA Coal Sprouts, Jughead Jones.
Lili also begins her video by eating food on camera, it seems to be a common 'relatability' tactic. This time, it's Chinese food. She has us hooked.
She also admits from the beginning that she already has foundation on, thank God. If that was her natural complexion I think I'd have had to tell her to stay in her lane.
Lili doesn't mention the products which she uses, which we translate to mean that we probably cannot afford them…
She uses pink eyeshadow, lip gloss, a basic nude foundation and of course, concealer and highlighter. Voila, she's ready for her close-up.
Relatability level: 3/5. She's the winner so far, mainly due to her Chinese wontons. They just look so tasty.
4. Emily Ratajkowski.
Ah, the notorious sexy selfie queen. We have serious doubts about the relatability level of this gal, she's got cheekbones for days and an enviable glowing tan.
Plus she could look sexy even if she went to Coppers until 6am the night before and had an absolute 'mare when those jägerbombs came back to haunt her. The hardest look to pull off, arguably.
She comments that "I do my own make-up for red carpets a lot". Same, tbh…
All this girl needs is Pat McGrath lipgloss, her blush which she confesses to be addicted to, and a bit of concealer. Wait… that's it? That's all it takes? Seriously?
We quit. We are the weakest link, goodbye.
<
Relatability level: 0/5. Sorry Emily, but you took a duck-face selfie when you were done, and DIDN'T delete it or take a second take. That's downright blasphemy in our books, we need at least 13 photos before we can find one we don't hate.
5. Rihanna
Last, but not least, BAD GAL RIRI. An icon. A sass queen. Fenty Beauty extraordinaire, we have high hopes for this one.
From the beginning of the ten minute long gift, RiRi shows off her bubbly personality without plugging her own products at all, which is a miracle in itself.
If you haven't tried using Fenty Beauty products, girl you are MISSING OUT. They're flawless.
Some of Rihanna's best quotes from this video include:
"Everyone knows concealer is made for hiding bags and dark circles, and hangovers and bad decisions." YAS queen, she's in the know. Riri gets the struggle.
"You've got to have powder for when you get greasy on the fly, honey." Preach it.
"Pink eyeshadow says summer, sunset, love, drama, BITCHES." We would pray to the church of Rihanna, honestly.
"The key to highlighter is not to be afraid, make-up is fun. It's there to play with." She hits the nail on the head, so many of us can find make-up intensely frustrating when we are expected to follow certain trends and look a certain way.
At the end of the day, beauty products should be used for our own enjoyment and empowerment, and if make-up doesn't empower you, your natural beauty is all you need.
Riri claims that she learned how to contour when she gained weight and wanted to hide her 'double chin' and forehead, which was hugely surprising to us. Superstar celebrities have insecurities too, gals.
"The best teacher is yourself." Say it louder for the people in the back, Rihanna. Everyone has their own unique look, individual face and preferred beauty regimens. You don't have to look to famous people to understand your own complexion, all you need is you.
Riri relatability level: 4/5. Her personality is down-to-earth, her tips are one of a kind and her products are gold star standard.
We have to remind ourselves that these celebrities have picked up countless tips from the top make-up artists in the business, whereas we got free eyeshadows from magazines as 11-year-olds back when YouTube make-up tutorials didn't exist (yes, there was a time, believe it or not) and gave ourselves pinkeye.
I lost count of how many allergic reactions I had to dodgy make-up after my 3827th eye infection from cheap "make-up".
I wouldn't even call it make-up honestly, I suspect that magazine eyeshadows were essentially homemade concoctions of flour and food dye.
Fast forward a few years, and YouTube beauty accounts have blown up across the internet, courtesy of teenagers who are DYING to know how to contour.
The word contour genuinely did not exist until recently in Ireland, we were simple folk back then.
There was eyeshadow (roughly 4 colours), orange foundation, mascara and lip gloss which was just Vaseline that had notions about itself.
In 2018, the cosmetic industry is bigger than ever, and is only beginning to include minorities in its world, thanks to brands such as Fenty Beauty creating more foundation shades.
It can be difficult to relate to any models in the beauty industry, no matter who they are. However you mould your own look in the mirror, imitate Rihanna and declare "I look cute!"
Always finish your look by feeling yo'self, it matters that you are feeling good, not just looking good.
Feature image:blog.colourfulrebel.com