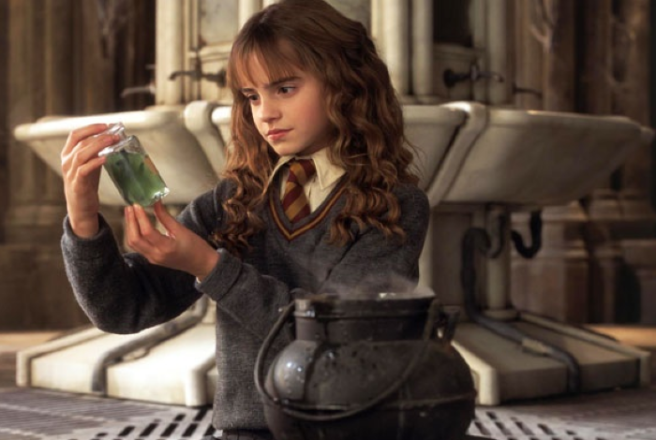 Are you ever sitting in your favourite Dublin pub or city centre cocktail bar, pondering the fact that nothing can quite live up to The Leaky Cauldron or The Three Broomsticks? Us too.
Fantasy franchises like Harry Potter, Game of Thrones and Lord of the Rings have spawned an array of merchandise and theme parks, and inspired a wealth of alcohol-based pop-ups.
It's been confirmed that the good people of Earth crave powerful potions and brilliant brews rather than your typical pint or mojito. We want MAGICAL elixirs.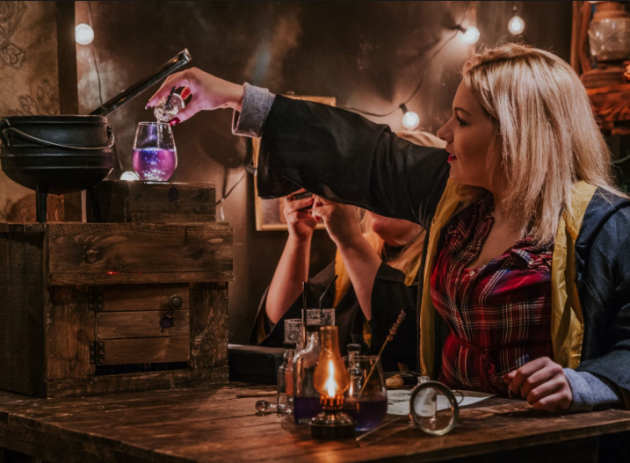 Luckily, The Cauldron have announced the expansion of The Magical Experience into Ireland following their hugely successful pop-ups in London and New York.
Whether you're a muggle, a witch or a wizard; You're going to want to visit The Liquor Rooms in Dublin at 5 Wellington Quay sometime over the next three months. Seriously.
The Cauldron's Magical Experience is a one hour and 45 minute immersive class, where you wield a working magic wand and use molecular mixology to brew drinkable elixirs.
You'll receive a dashing robe to wear, and a magic wand of course. Then you'll be led to an interactive work station where you can learn spell-casting 101 by pouring a drink of beer, a cocktail or a mocktail.
The Cauldron work with Wicklow Wolf, the Irish craft brewery from Bray, to create Wicked Wolf; a limited edition collaboration beer made exclusively for The Cauldron of Dublin. The floral IPA has some magical ingredients- Jasmine, Green Tea, Malted Irish Barley and Wicklow water.
The Magical Experience will then invite you to brew two of their molecular potions that change colour, bubble and even smoke. We're sold. The three-month pop-up in The Liquor Rooms is set to be a sell-out, at just €29,99 per magical being off-peak and €34.99 during peak times.
The experience is almost entirely self-guided, but don't worry about doing a Séamus Finnigan on it and blowing up the place. A potions master is on hand to make sure you don't poison yourself, or anyone else. Alcohol-free, gluten-free and vegan options are all available too. We do adore dietary inclusivity.
It's hard to believe that The Cauldron first began as a Crowdfunding project in 2017. Co-founder Matthew Cortland, a George Mitchell Scholar and former reading teacher, was living in Dublin, simultaneously working at a tech startup, and finishing his master's degree in Creative Digital Media at DIT.
Cortland later moved to London to set up the business and is bringing the project home.
"This concept has such strong roots in Irish Design and individuals in Dublin– from our illustrator to our wand maker to our key advisors. We even shot our first video in The Gravediggers in Glasnevin, a location that was a major source of inspiration for the interior design vision for The Cauldron."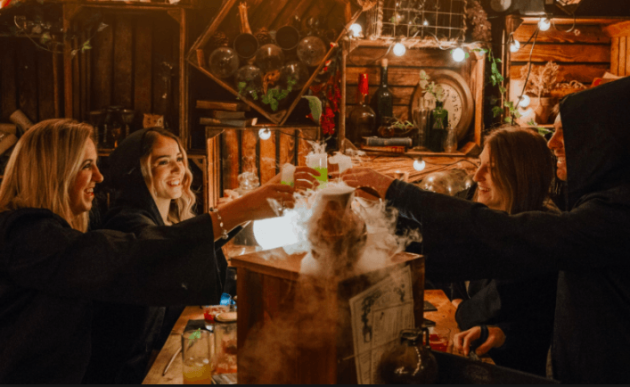 "Without the assistance and contribution from these people, I'm not sure that we would have ever gotten to this point," Cortland added. "I'm incredibly grateful." So are we Matthew, so are we.
Co-founder David Duckworth, a molecular cocktail and experience designer, compares The Cauldron's concept to Irish folklore.
"Celtic folklore and mythology ties into the fantastical experience we are bringing to Dublin. The idea that magic is real and just inaccessible to ordinary people or that the veil to the other realm is just beyond reach is a concept that resonates with those who love fantasy and mythology.
"Our goal is to use science, the magic of our world, to make that dream real," David quipped.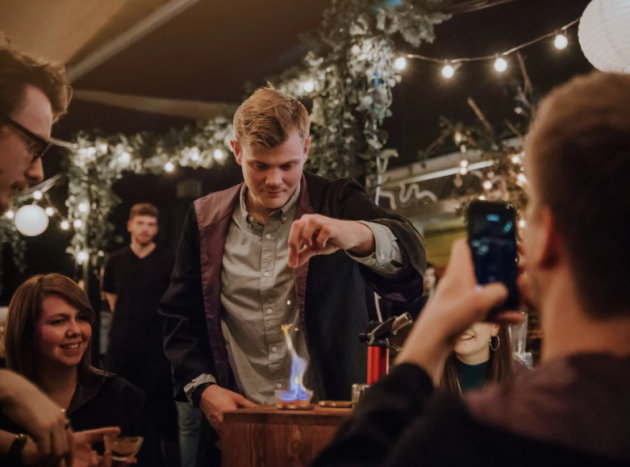 If you want your chance to experience The Cauldron while it's in Dublin, head to underground speakeasy on the quays; The Liquor Rooms,
Off-peak seatings are from Monday to Thursday all day, and Friday from 11am-4:45pm. Peak seatings are Friday nights, and weekends.
The experience is over 18s only, and tickets must be booked in advance to attend. A limited food menu is also available on site, if your magical antics make you peckish.
Check out the clip below of the Magical Experience and you'll be scrambling to book tickets;
Feature image: wizardsandwhatnot.com