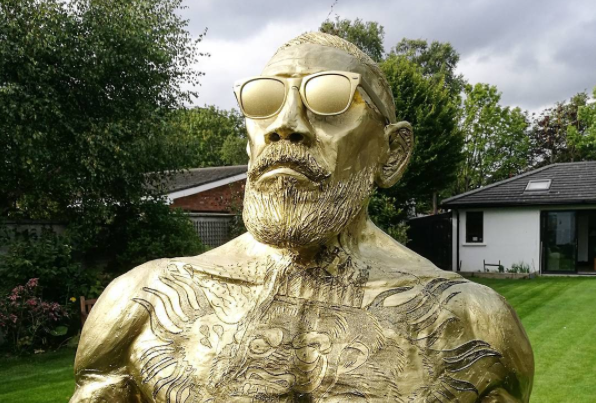 So, it's safe to say that following this weekend's events, Conor McGregor really is the man of the moment.
OK, he may have lost to Mayweather, but his larger than life personality, graceful defeat and em, his own range of whiskey, have capapulated the Crumlin native to new levels of fame.
Love him or hate him, the UFC champion has nothing but pride for his home country and just like many national treasures that came before him, one man believes Conor's achievements should be honoured in the form of a life-sized gold statue (afterall, we did it for Joe Dolan, so why not?).
Youtuber, Eamon John, built the impressive statue in his back garden in Clontarf, and we have to admit, it's pretty incredible.
Inspired by an Instagram post under which The Notorious commented "someone make that into a staue," the 21-year-old decided to do just that.
"The reason I'm doing this is because I ain't got no job and I'm trying to figure out what to do," he explained in the video.
"I saw Conor McGregor posted an Instagram photo in that position, saying 'someone make a statue out of this'.
"Then a few weeks later he posted a gold statue in a shop of a jaguar or something and said 'make my statue this colour' – so I was kinda like OK."
Bravo Eamon. We reckon Conor is going to love this.