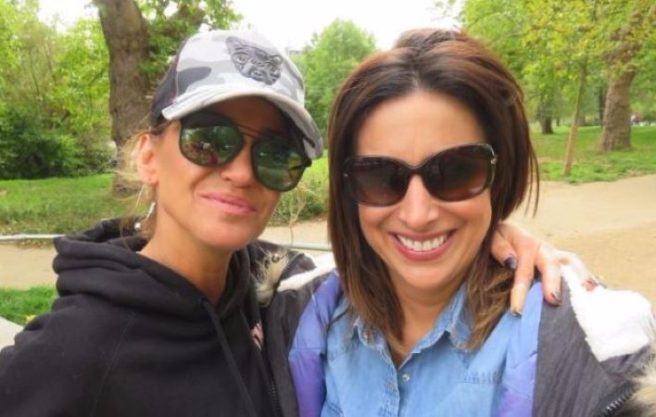 Whether it was during her glory days in Girls Aloud or her recent stint on Celebrity Big Brother. Sarah Harding has no problem making headlines.
After playing up to her party girl image during the height of her fame with the UK girl group, Sarah entered the CBB house earlier this year in an effort to show the public another side to her.
And while she certainly won over some and ultimately walked away with the crown, it seemed the public's opinion of the Stockport lass was still far from clear, and yet their fascination showed no signs of waning.
With that in mind, it's hardly surprising the viewing public were quick to tune in when Lucy Kennedy announced she lived with the popstar in her London home in recent months.
As part of her Living With Lucy series, Lucy moved in with 36-year-old Sarah, and ultimately revealed a side of the popstar the public had yet to see.
And Twitter was here for it.
@SarahNHarding Just caught up on #LivingWithLucy @KennedyLucy and you were the sweetest, most genuine person I loved how real, honest and open you were about everything. You're an amazing person and I wish you'd believe in yourself more

— Shanna Towner (@ShannaTofficial) November 15, 2017
The more I watch @SarahNHarding the more I love her!! #LivingWithLucy! Just seems so genuinely nice!

— Ryan Hudd (Bambi) (@RyanHuddBambi) November 15, 2017
I think #LivingWithLucy has redeemed you in the eyes of a lot of the people that would have seen you on @bbuk

— THE DEVIL'S ADVOCATE (@THEDEVILSADVO15) November 15, 2017
#LivingWithLucy was a much needed tonic tonight. @SarahNHarding deserves to believe in herself more. @KennedyLucy deserves so much success for her ability!

— Dave Kavanagh (@Davekav_advice) November 14, 2017
I thought it was one of the best episodes #LivingWithLucy @KennedyLucy i thought sarah came across a lovely peson and i hope everything works out for her@SarahNHarding

— Dervla(@Dervla_oXo) November 14, 2017
Bowled over by tonight's installment of #LivingWithLucy on @TV3Ireland & kudos to a fantastic Irish presenter @KennedyLucy for a sterling episode with singer/celebrity @SarahNHarding & Lucy is like your big sister & she's there 2 console you & guide you, well done@ADAREtelly

— Philip O'Malley (@philipomalley81) November 14, 2017
Well done @SarahNHarding you done yourself proud really enjoyed watching the show a very endearing young lady#LivingWithLucy

— Sabrina Downey (@sabdowney) November 14, 2017
@SarahNHarding is the most genuine and down to Earth person @KennedyLucy had on the show. Hope they stay in touch because she'd be good for her confidence. #LivingWithLucy @TV3Ireland

— Melissa Flynn (@Meyonce) November 14, 2017
@SarahNHarding @KennedyLucy BEST EPISODE EVER someone grab me the fucking tissues#livingwithlucy

— Nuffxluff (@nuffxluff) November 14, 2017
I really hope @KennedyLucy and @SarahNHarding stay in touch! She came across so well!! Good things are going to happen for her #livingwithlucy

— Jónathan (@ItsJonathan1404) November 14, 2017
Sarah Harding is coming across as a genuine, vulnerable, sweet person. Lucy seemed to really gain her trust #livingwithlucy

— NATurally Shrill (@NatsWP) November 14, 2017