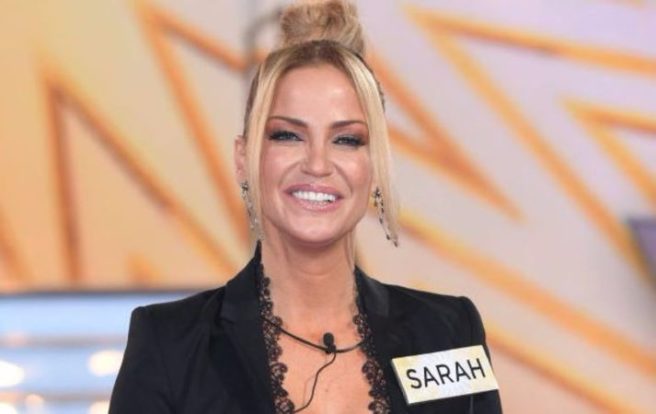 Twitter has had its say on Sarah Harding, and it's a real mixed bag
So, for those of you who don't know; former Girls Aloud member, Sarah Harding, is currently ensconced within the four walls of the Celebrity Big Brother house.
And when compared to previous Celebrity Big Brother contestants, Sarah has a relatively high profile, so it's no real surprise that Twitter has devoted time to analysing the singer's every move since she made her grand entrance this week.
What was it like being in Girls Aloud? Has she had surgery? And, perhaps most importantly, does she hate Cheryl?
Unsurprisingly, it's been a mixed bag so far, with some members of the public keen to support the 35-year-old performer and others…well… less so.
Here's the breakdown:
The good
I actually like #cbbsarah she seems such a genuine, down to earth girl. Very pretty but don't have a big head. #cbbuk

— sharon (@serenityshaz) August 3, 2017
SARAH HARDING. ACTUAL SARAH HARDING. FROM GIRLS ALOUD. SHE'S GOING IN. OMG. #CBB

— Super TV 24/7 (@superTV247) August 1, 2017
I ADORE Sarah Harding & hope she does well but Girls Aloud are pop royalty & I never thought I'd see the day they were doing likes of #CBB

— will (@This_Is_Will_) August 1, 2017
Wow singers who can actually sing! Normally lots of auto tune on songs but Amelia & Sarah doing well!! #CBB

— Rebecca (@rebbedy1802) August 3, 2017

The bad
New drinking game , take a shot everytime Sarah harding mentiones shes a tomboy or one of the lads #CBBUK #CBB

— Sophie (@HatChaos) August 2, 2017
How many times does Sarah Harding tell someone she's a tomboy in the opening #CBB?

— Mia Stannard (@miastannard) August 4, 2017
"Thank you for calling Celebrity Big Brother. You have voted to evict Sarah' #cbb pic.twitter.com/lIlBd28zNj

— shane telford. (@MrShaneReaction) August 1, 2017
Cheryl, are you watching #CBB? #CBBSarah pic.twitter.com/XARuegdgcn

— Elliot Gonzalez (@elliot_gonzalez) August 1, 2017
Bit tired of @SarahNHarding bringing up her past. NO ONE CARES. You're the only one that keeps mentioning it.#CBB #CBBSarah

— Callum (@callumjohn28) August 4, 2017
Sarah, you don't want people to keep bringing up the past, so stop talking about your past to anyone who will listen? #CBB #CBBSarah

— Lucy (@Lucy21037) August 3, 2017
And the ugly
WAIT. Sarah Harding can sing?! #CBB #CBBSarah pic.twitter.com/CyC3AwZ3bj

— Elliot Gonzalez (@elliot_gonzalez) August 3, 2017