The Lord Mayor of Dublin Paul McAuliffe and the Minister for the Office of Public Works (OPW) and Flood Relief Kevin 'Boxer' Moran, have officially opened Christmas at The Castle, the unique festive experience taking place in the historic surroundings of Dublin Castle from now until December 22. Christmas at the Castle is presented by the OPW in partnership with Dublin City Council.
From today in the historic heart of the capital, Dublin Castle is transformed into a winter wonderland, which will bring to life Christmas traditions new and old. A Christmas tree lined avenue will guide visitors to the upper courtyard of the Castle which has been filled with over 30 traditional alpine chalets selling mouth-watering festive treats, decorative crafts and inspirational gift ideas.
Visitors to Christmas at the Castle, which has free admission and is open from 12 to 8pm daily, can indulge in traditional fare being sold by artisan producers and soak up the festive atmosphere with evening carol singing provided by local choirs.
Some of the market culinary offerings include pizza cones – with mobility in mind from Kono Pizza, traditional German-style sausages & burgers from Swing Grill, Churros made to an authentic (secret) Venezuelan recipe from Sweet Churro and award-winning hand-rolled ice cream from Arctic Stone.
Fans of handcraft, meanwhile are sure to find something special as more than 20 craft vendors will be housed in traditional style wooden chalets, offering artisan products produced by Irish artists including Michelle Hannan Ceramics, Woodcraft by BmacD by Brendan Mac Donnell and Oilean Jewellery by Peter Gough
For the duration of Christmas at the Castle, the OPW is also providing complimentary evening access to the State Apartments from 6-8pm, which have been festively decorated in the style of a Victorian Christmas. Visitors are also invited to take in the handmade Neapolitan Baroque crib in the gothic revival Chapel Royal.
The festive experience is further enhanced with a vintage carousel on site for children while weekend visitors to Christmas at the Castle can avail of horse carriage rides around the Castle grounds and gardens.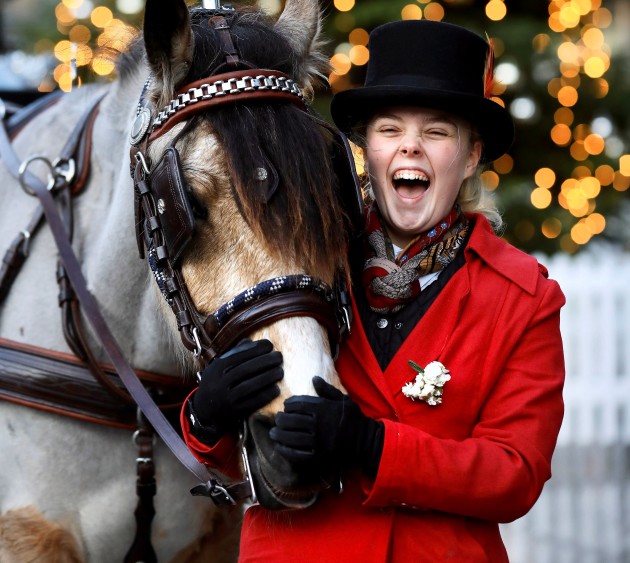 Speaking at the launch the Lord Mayor of Dublin Paul Mc Auliffe said "I am delighted to officially open, alongside the Minster for the OPW, Kevin 'Boxer' Moran, Christmas at the Castle here in Dublin Castle. There is something for everyone here and I wish to acknowledge the hard work of everyone involved in bringing this magical festive experience to life in Dublin City."
Minister 'Boxer Moran said "This is a gorgeous experience for anyone, young or old, who wishes to get into the Christmas spirit. The OPW and Dublin City Council have transformed the courtyard of Dublin Castle into a magical winter wonderland bring together exceptional vendors who are selling fantastic produce, with entertainment provided by talented local choirs. I would encourage people to visit the State Apartments and I am delighted that we are able to provide complimentary evening access to them for the duration of Christmas at the Castle."
On the weekends of the 14 / 15 and 21/ 22 of December, Bedford Hall at Dublin Castle will also host a further selection of vendors. Christmas at the Castle runs from the 12 to the 22 of December and is open from 12pm to 8pm daily. Admission to the market is free. To find out more go to www.dublincastle.ie