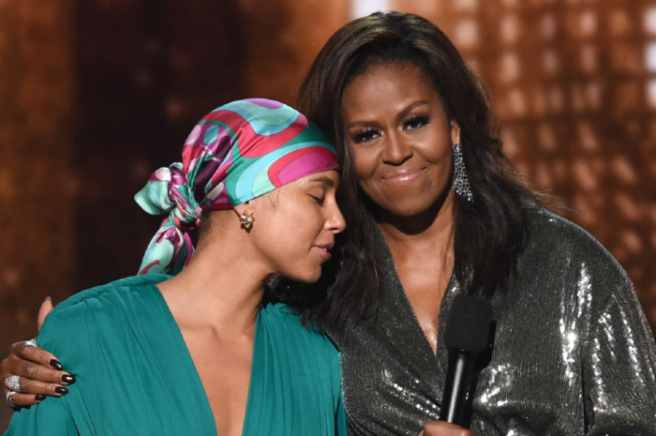 Former First Lady and current leader of the entire world Michelle Obama delighted her fans and celebrities alike by making a surprise appearance at the Grammys.
Obama showed up and stole the show by appearing alongside fellow female legends Lady Gaga, host Alicia Keys, Jada Pinkett Smith and J-Lo to emphasise how much music means to them.
When she first showed her dazzling face onstage, many in the audience didn't immediately register who she was, Once she began speaking however, the crowd LOST IT.
A big part of friendship is showing up for your girls—that's why I was thrilled to be there for the one and only @aliciakeys at the #GRAMMYs. She is one of the most genuine and thoughtful people I know—there's no one better to help us all celebrate the unifying power of music! pic.twitter.com/8cMhTmsClA

— Michelle Obama (@MichelleObama) February 11, 2019
She had only declared the words, "From the Motown records I wore out on the South Side …", when she was interrupted by hysterical cheering. I mean, we'd all lose our chill if she turned up in Dublin airport.
"All right — we got a show to do," she said as she tried to dissipate the clapping, to no avail.
She referenced Beyoncé, naturally, and Motown as her influences. Could she BE more inspiring?
Former first lady Michelle Obama made a surprise appearance at the 2019 Grammy Awards. She was greeted with deafening applause before delivering a unifying message about music. https://t.co/nwicFSqQXH pic.twitter.com/i162kjCs58

— CNN (@CNN) February 11, 2019
"From the Motown records I wore out on the South Side to the Who Run the World songs that fuelled me through this last decade, music has always helped me tell my story, and I know that's true for everybody here."
"Whether we like country or rap or rock, music helps us share ourselves, our dignity and sorrows, our hopes and joys. It allows us to hear one another, to invite each other in. Music shows us that all of it matters."
"Every story within every voice, every note within every song. Is that right, ladies?" THAT'S SO RIGHT, MICHELLE.
She later tweeted that she was "thrilled" to be present, celebrating the power of music. Never stop making surprise appearances, gal, we need you.
Feature image: GRAMMY.com