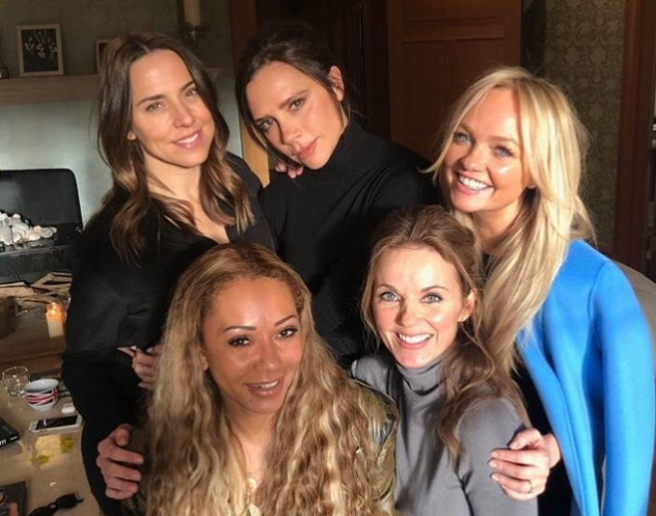 Mel B's Halloween costume is sure to upset a few people, but you can be sure that Victoria Beckham won't be happy, to say the least.
Scary Spice lived up to her name and sported a mask of Posh Spice while wielding a sign saying 'No I am not going on tour.' Yikes.
She appears to be not-so-subtly taking a dig at Victoria Beckham's refusal to join the Spice Girls reunion tour and consequentially causing a fallout within the former iconic girlband.
The America's Got Talent judge attended Heidi Klum's annual NYC Halloween party and appeared to confirm that Posh Spice did in fact cause a feud among the band by rejecting offers for a worldwide tour.
She was accompanied by her close pal Gary Madatyan, who wore a jersey which read "Beckham" and held a sign that read: "Please, please, please do it for the Spice fans."
They're certainly trying to send us a message, that's for sure!
Mel B takes fire at Victoria Beckham's refusal to join Spice Girls tour by dressing up as her for Halloween. Don't want to throw shade Mel B, but we could have provided a much better mask…just saying. #spicegirlsreunion #MelB #VictoriaBeckham #Halloween #Halloween18 pic.twitter.com/D9oyoJKfgQ

— Celebrity Cutouts (@CelebrityCutout) November 1, 2018
Mel imitated Posh's iconic look of towering heels and a Little Black Dress, and finished off the controversial look with a mask bearing the face of the designer mum-of-four.
She is living up to her new reputation as Shady Spice – and the internet appears to be loving it.
Victoria did not attend Klum's star-studded 19th Annual Halloween Party at LAVO in New York, and therefore wasn't able to defend herself.
Instead, she celebrated Halloween with her kids back in London, dressing up as a creepy bunny which will likely scare most of her neighbours.
Fans were living in confusion over the future of the girlband in the last few months, after the members were all seen together engaging in meetings regarding a tour.
Mel C previously commented that the band might not rejoin as a five-piece, indicating that Victoria was reluctant to engage with her former bandmates.
Why can't they just reunite and be friends again? Wannabe will never go out of style.
Despite Victoria's apparent absence from a future comeback, music mogul Simon Fuller is the brains behind a possible tour featuring the four remaining Spice Girls.
Mel C has been the most vocal in regards to the lack of interest from the designer: "Victoria has been quite vocal, it's really not something she wants to do at this time."
The four-piece band will reportedly gain around £12 million individually if the tour sells out, even without Victoria Beckham.
Will there be a rebound swipe at Mel B by Posh Spice, or will she even dignify the costume with a response?
Feature image: Instagram/@victoriabeckham