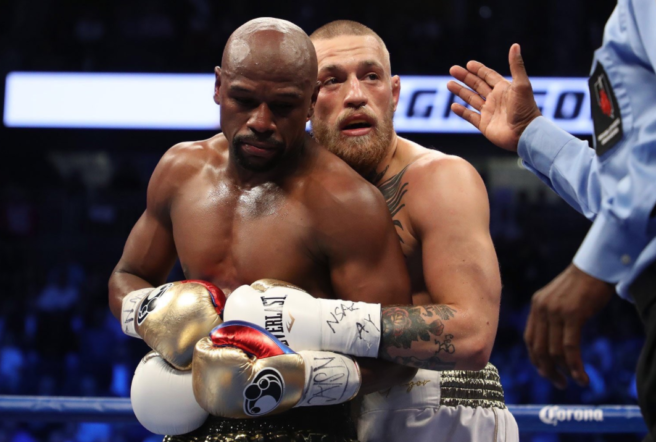 After months of hype, numerous press conferences and a catalogue of McGregor one-liners that are sure to be repeated in Irish pubs for years to come, one of most highly anticipated fights in boxing history took place in the early hours of this morning.
Boxing and MMA fans across the globe joined forces to revel is the mega money sporting event that saw an undefeated Floyd Mayweather take on Conor McGregor in the ring.
Although Mayweather cemented his legacy as on of the greatest boxers of all time after winning by TKO in the 10th round, Twitter praised both fighters for the mutual respect they showed after the stoppage, and though some fans were left disappointed by the final result, it seems like everyone enjoyed watching.
#MayweathervMcgregor in case you missed the fight. Here's the finale pic.twitter.com/gvyzNKOql6

— MANCHESTER UNITED FF (@manutdfforum) August 27, 2017
How come Simpons always know what happens next ? #MayweathervMcgregor pic.twitter.com/XA2BkNcwIH

— It's Nelson (@famousgists) August 27, 2017
Pretty much sums up tonight's Fight #MayweathervMcgregor pic.twitter.com/1BJX1opCrN

— ♡Elizabeth (@ElizabthSummer) August 27, 2017
Who did it better? #MayweathervMcGregor pic.twitter.com/eAqOmKi3EU

— James Medina (@Jaimedina1) August 27, 2017
Congrats to the @TheNotoriousMMA on a brilliant fight. No way Mayweather lasts 30 seconds in an MMA bout. pic.twitter.com/FXFwNP6rZY

— Johnny Knoxville (@realjknoxville) August 27, 2017
Conor McGregor after the fight like… #MayweathervMcgregor pic.twitter.com/GtJl9lvUWV

— Luke Meissner (@LMeiss7) August 27, 2017
all of Ireland after the fight #MayweathervMcgregor pic.twitter.com/KBW0nrN8fc

— . (@itsluisagibson) August 27, 2017
McGregor could do with using some of that £100 million to pay the electricity bill for Ireland for last night #MayweathervMcgregor pic.twitter.com/rZYvUMdjSP

— Wardy (@wardy7) August 27, 2017
Two legends, Respect for these two. It was a great fight#MayweathervMcgregor pic.twitter.com/GKiGNpyWnt

— Blue (@Thexzaminer) August 27, 2017