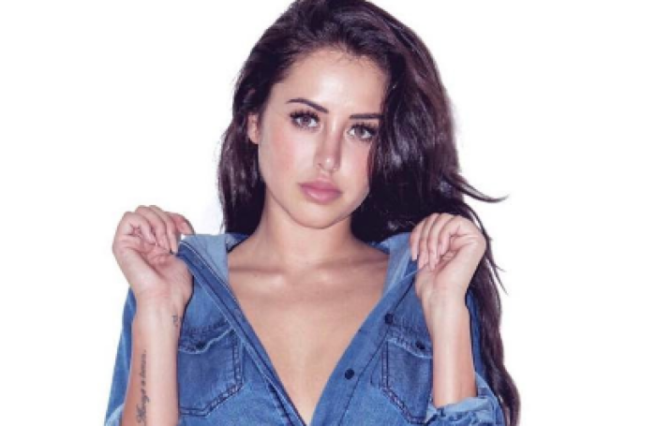 Marnie Simpson SLATES boyfriend who cheated on Valentine's Day
Marnie Simpson has lashed out at ex-boyfriend Lewis Bloor after it was revealed that he cheated on her on Valentine's Day.
Taking to Snapchat last night, Marnie branded the TV personality a "scumbag" in a series of videos.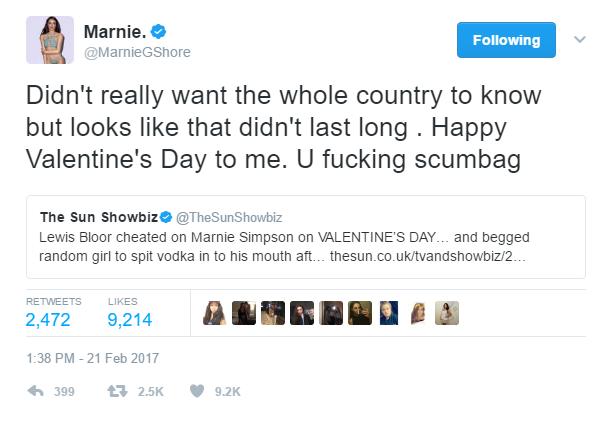 "I don't normally do videos but I feel like I want to get my point across about what the hell has just happened," began the star, in the first video of many in a seven-minute rant.
"I've literally just spend the last seven months of my life with an absolute phoney, lying cheating scumbag."
Marnie went on to thank the female, albeit sarcastically, who Lewis cheated with, for saving her from staying with her cheating boyfriend and opening her eyes to his "true ways."
"Thank you for being a massive s*** and jumping into bed with my boyfriend."
The woman with whom he cheated has come forward to share her story about the infidelity encounter.
Amelia Guest spotted the reality TV star hailing a taxi, and in a star-struck moment, jokingly asked if he wanted to come to London with her and her friend.
Lewis was reportedly "begging to snog" Amelia, and in a video obtained by The Sun, the two can be seen kissing and canoodling under the covers of hotel bed.
In her Snapchat rant, Marnie also revealed that she remained faithful to Lewis in the upcoming series of Geordie Shore, despite living with her ex Aaron Chalmers, with whom she was "quite serious."
The new 12-episode series is set to air sometime in April, so if anyone was hoping for a rekindling between Aaron and Marnie, according to the Geordie star you are set for disappointment.