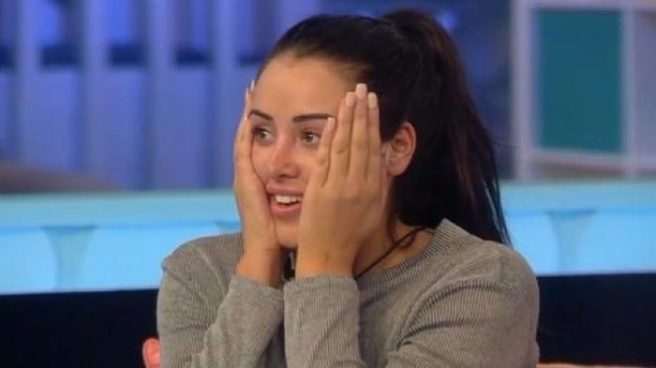 Marnie Simpson was left in shock after her now ex-boyfriend Lewis Bloor cheated on her on Valentine's Day while she was filming a new season of Geordie Shore.
Lewis posted an extensive apology to Marnie on his social media, which Marnie's Geordie Shore co-star Aaron Chalmers retweeted, adding his own accusations.
Now, Lewis has broken his social media sabbatical by clapping back at Aaron, challenging him to a fight and slinging insults in 180 characters or less.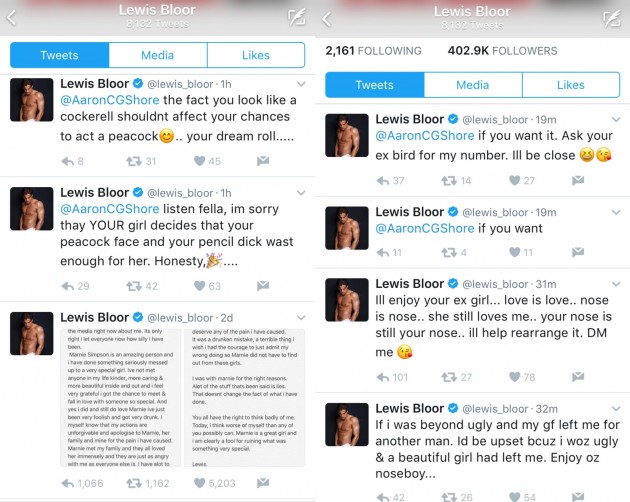 Lewis didn't hold back when it came to slating Aaron's appearance, and even insulted the Gerodie star's extensive gallery of body art.
The TV personality was creative in his scorn, calling Aaron an "egg," a "peacock" and an "ugly nose boy." The tweets have since been deleted.
By far the most outlandish tweet came when Lewis invited Aaron to a £20,000 (€23,595) three-round charity fight to settle their differences.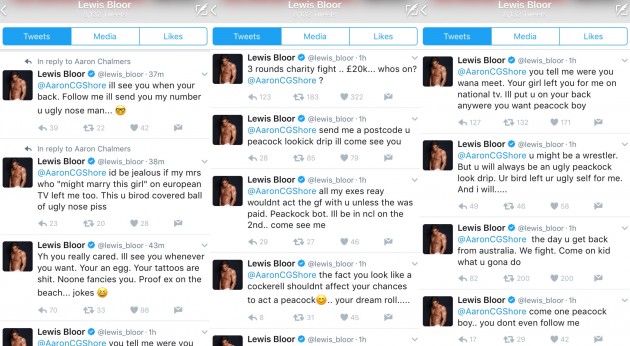 Aaron was en route to Australia at the time, so a member of his team tweeted back with a response, accepting the offer to fight Lewis on Aaron's behalf.
The tweet requests that Lewis put the £20,000 in Aaron's solicitor's account, and that if he does, the fight will go down on Aaron's return.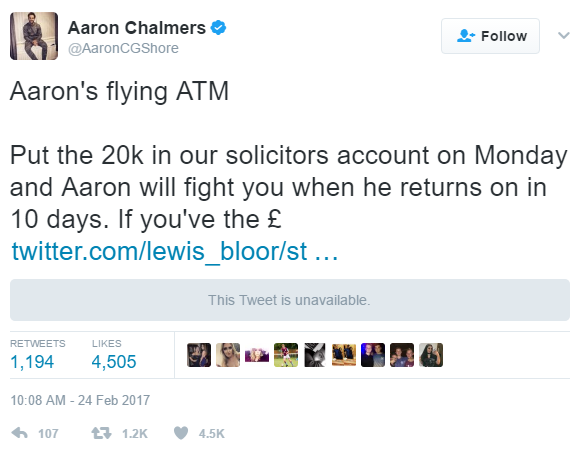 If this fight actually happens, we will definitely cough up for the pay per view.
We wonder if Marnie will be acting as the ring girl?
In response to the drama, Marnie simply tweeted a row of anxious face emojis.
Whats the date fat boy? Lay off the twixes lets give these people what they want#lightwork

— Lewis Bloor (@lewis_bloor) February 24, 2017
The drama began when Aaron tweeted at Lewis, saying: "Why don't you start by paying back some of the 20-25K you sponged off her?" after Lewis posted an apology to Marnie for cheating on her.
While Lewis was in the throes of cheating on Marnie, he allegedly told the girl he was about to sleep with that the relationship was fake and that he was only involved with Marnie for the money.
"Thousands, thousands he's had out of me. Then he has the audacity to tell the girl that he's only with me for the money," Marnie raged in a Snapchat rant.
Also @lewis_bloor the 20k you make for getting banged out you can pay Marnie back and my 20 ill donate to charity?

— Aaron Chalmers (@AaronCGShore) February 25, 2017
Marnie later posted to say that it wasn't fair to allow people to think that Lewis had sponged money from her, and refuted the claims.
The post, which seemed to reflect positively of her relationship with Lewis and specifically slated the girls he had cheated with, led fans to believe that Marnie may consider getting back together with the Big Brother star.
Lets see how she feels after this charity fight. If it actually happens.