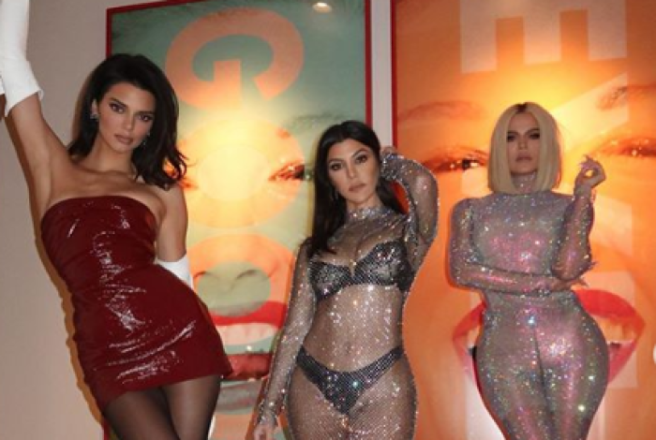 Looks like Kylie Jenner and big sis Khloe Kardashian are staying strong by partying on amid the Tristan Thompson/Jordyn Woods scandal.
It was only last week that Kylie's supposed best friend Jordyn allegedly acted inappropriate with Kardashian's apparently boyfriend Tristan, and predictably sh*t hit the fan.
The Keeping Up with the Kardashians stars enjoyed a night out on Sunday despite all of the drama, and of corurse, they looked glamorous AF.
Captioning the photo; "Smile for the camera", Kourtney posted a series of jaw-dropping images featuring the sisters, minus Kim.
With diamanté bodysuits hugging the curves of Kourtney and Khloe, Kendall's gorgeous red vinyl dress and LEGS FOR DAYS, the family look more stunning than ever. We ain't jealous, though… only a little.
The 21-year-old Kylie Cosmetics founder shared moments of herself and 34-year-old Khloé on their way to an Oscar's after party (was it Beyoncé and Jay-Z's?).
Kendall Jenner made an exclusive appearance at the lavish Vanity Fair's Oscar's after party alongside Caitlyn Jenner.
Kylie can be seen on her Snapchat account wearing a green outfit paired with stunning emerald jewellery, with Khloe opting for a daring, shimmery jumpsuit and her signature bob straightened.
Kourtney Kardashian also shared moments from the bash, including a photoshoot of herself with Khloé and Kendall. The latter two made a quick change after the Vanity Fair party.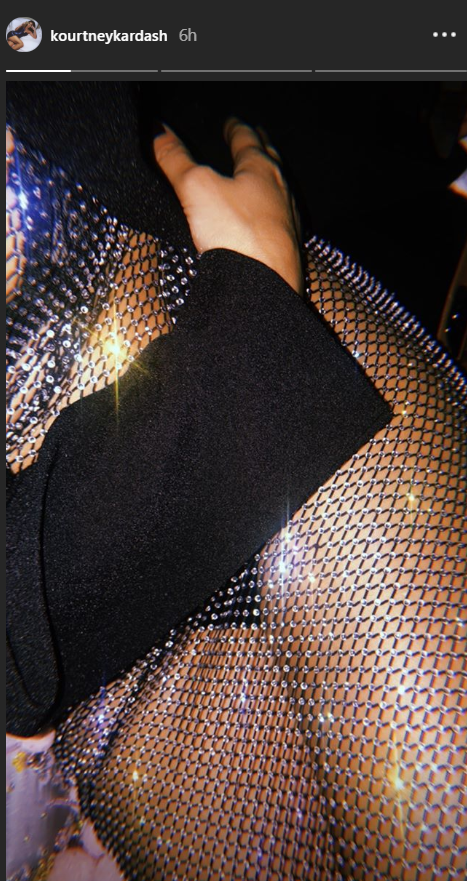 39-year-old Kourtney looked INSANELY good in her sheer diamond gown, wearing a daring black bra and thong underneath, accessorising with Yeezy heels.
23-year-old Kendall wore a red leather dress, tights, white gloves and white pointed heels; a different lewk from her controversial Vanity Fair party emsemble.
Khloé also shared the photos on her Instagram account, but captioned it "Step up in the bitch like," quoting brother-in-law Kanye West's song Waves.
Her big night out comes in the wake of her girls trip with Kim Kardashian and BFF Malika Haqq, which was to take her mind off the Tristan infidelity scandal.
38-year-old Kim documented the trip on her Instagram Stories, with PEOPLE claiming they headed to Palm Springs.
"Kim took Khloé to Palm Springs one night before the weekend so she could have a relaxing getaway," says the insider, adding that Khloé is "doing okay."
"Her family continues to support her," the source says. "Everyone is trying to cheer her up and be around to help. They all still talk a lot about what happened. Their opinion hasn't changed- what happened between Tristan and Jordyn is inexcusable."
According to the source, Kylie is struggling to move past the alleged betrayal caused by longtime best friend Jordyn.
"Kylie still seems torn," the source says. "It's going to be very difficult for her to cut Jordyn completely out of her life." Jordyn has apparently blamed the incident with Tristan on alcohol.
"Her story keeps changing a bit, and it's almost like she is digging herself deeper," a different source told PEOPLE.
"It's been a week now of nonsense explaining from her side. Everyone thinks she wanted to hook up with Tristan and she just didn't think she was gonna get caught."