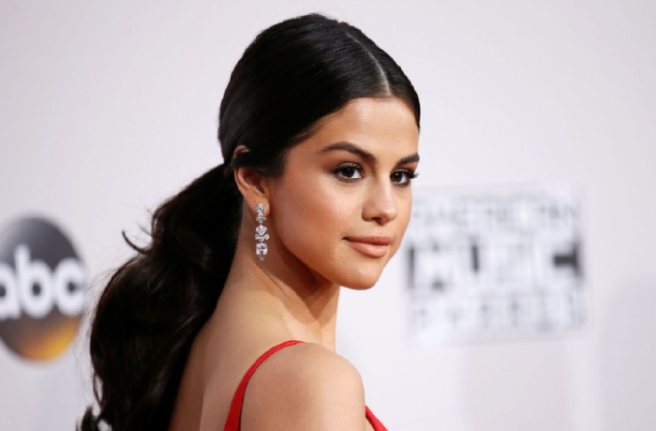 Selena Gomez has been keeping a very low-profile of late, only recently making a quiet return to her social media stage.
The 26-year-old Come and Get It singer is coming back to our Spotify playlists this year, collaborating with Julia Michaels on her upcoming EP track Anxiety.
While the rest of us spent our weekends in a burrito blanket, bingeing Sex Education on Netflix, Selena was throwing her BFF a BRIDAL SHOW from heaven.
Selena's certified #1 Hun Courtney Barry captioned the gorgeous post of polaroid snaps; "A few of my perfect girls threw me a perfect shower."
Oh look, Selena herself is in the background. Looking happy, relaxed and stunning in a red dress that's GASPing for spring to come.
Eagle-eyed fans spotted the singer in her friends photos, having organised the event for her BFF Courtney.
The singer and her long-time bestie have known each other years, with Gomez thanking her in numerous posts for her strength and kindness.
The pair even got matching #1 tattoos to solidify their everlasting friendship, dang that is CUTE.
Now it's Courtney's turn to get married, and Selena looks like she's supporting her like a great pal.
She captioned this post;
"The way you handle life's most confusing moments is indescribable and graceful. You are moved by the littlest stories to the most heartbreaking ones, you will give someone your perfume if they say you smell nice, you are freaking hilarious and always stand firm in your faith, a loving sister, an amazing friend and a beautiful daughter."
"You are the definition of FEARFULLY and WONDERFULLY made baby!"
Selena has taken time out from the spotlight after continuous physical and mental health issues, we can't wait to see what 2019 has in store for the gal.
Hopefully she has found the help she needs and deserves, it looks like she's got a wonderful bunch of pals around her.