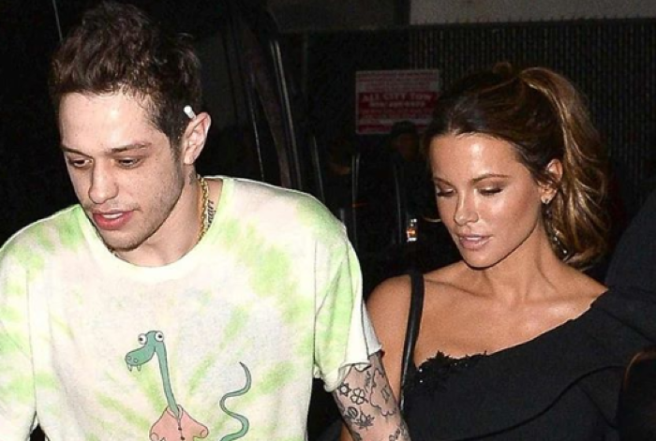 Reports are stating that Pete Davidson and Kate Beckinsale are officially OVER after circa four months of dating.
We're heartbroken simply because their relationship created possibly the greatest photo/meme that has circulated the internet. Periodt.
You know the one, with the tongue kissing and Queer Eye's Antoni resembling every third wheel ever:
The duo met at a Golden Globes after-party and were all over each other in public ever since.
They may have traumatised Antoni for life, but at least the SNL star and award-winning actress have apparently stayed friends since calling it quits.
"They're still friendly but are not on romantic terms," the source told Entertainment Tonight.
Kate Beckinsale and Pete Davidson have reportedly decided to slow things down pic.twitter.com/k0GrCH4F3B

— QUEEN NORMANI (@QueenBlair28) April 24, 2019
Meanwhile, People is out here reporting slightly different news, with a source saying that Pete and Kate are technically still together, but they've slowed down a lot;
"Pete and Kate got super serious very fast, but they've decided to slow things down a bit," the source explains. "They're still dating as of now."
Page Six reported when the pair met; "They were flirting all night and sipping champagne. They were outside on the patio and left together." Since then, we've been blinded by PDA pics.
Not anymore, folks, their kissing reign has been dethroned.
Feature image: Instagram/@eonlineau