We've all gazed at Steve Harrington and his sassy ice-cream serving colleague Robin and wondered if the ice cream tastes as good as it looks. Well, now's our chance to find out.
To celebrate the launch of Stranger Things 3, Netflix have recreated the hilarious ice cream parlour, Scoops Ahoy, as an Upside Down ice cream van which will tour the UK and Ireland.
The 1985-themed van is set to travel multiple cities for 15 days, including Dublin. Scoops Ahoy is scheduled to make it's Irish stop in Dundrum Town Centre on Wednesday, July 17 from 4.30pm – 7pm
have you spotted a scoops ahoy ice cream van in the wild yet? one might be coming your way pic.twitter.com/JYU8wm65fo

— Netflix UK & Ireland (@NetflixUK) July 9, 2019
Millie Bobby Brown confirmed the news via the Netflix UK and Ireland Twitter, and the excitement is palpable. If only Steve was serving us a Cherries Jubilee, that would be a dream come true.
The upside-down Scoops Ahoy ice cream van,features eerie Stranger Things melodic chimes inspired by the iconic soundtrack.
The van also has two sides to enjoy; a 1980s ice-cream parlour in pastel pinks, blues and whites, and a dark side straight out of the Stranger Things Upside-Down.
Okay, it's official. I'm quitting my job to go scoop ice cream with Steve. #ahoy #ijustneedthathat pic.twitter.com/69cIkf5sJa

— Melissa (NagathaChristie) (@calsolomon) July 8, 2019
From Hawkins to Hawkins (see what they did there?), Scoops Ahoy is set to visit 11 places named 'Hawkins' around the UK and Ireland.
This includes city centres, summer events, seaside towns and shopping centres…but not Starcourt Mall.
The flavours include retro Coke Float, Cherries Jubilee, Banana Boat and July 4.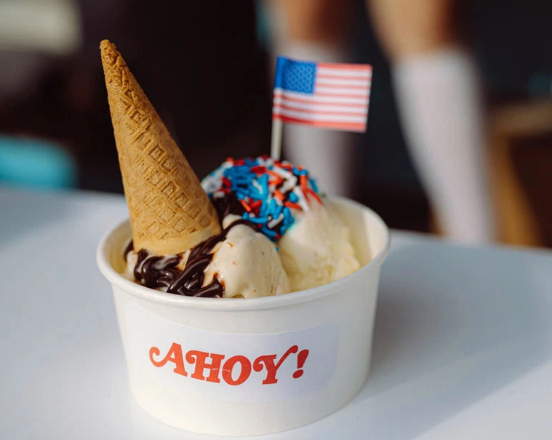 Some of the toppings include glacé cherries, dark sauce, chocolate sprinkles, wafers, toffee sauce, cookie dough. Damn, Scoops Ahoy really is sugar, spice and everything nice.
We'll be celebrating with our fellow Scoops Troops by recreating Dustin and Steve's reunion in the parlour, which remains the most wholesome content we've seen this year.
Feature image: Netflix