Many of us feel just that little bit too self-conscious if we step outside the house without covering up those bags under our eyes and the latest spots to emerge on our face.
We're not alone, according to a new survey undertaken by Carter Beauty Cosmetics. The brand, started by beauty mogul Marissa Carter, has taken the industry by storm.
Apparently, 86 percent of women feel that they need concealer, and a whopping 69 percent of women aren't confident that they know how to use concealer correctly.
If this many women feel naked without their daily dose of concealer to match their makeup regimen, what's our best product recommendation?
Carter Beauty's new Out of Sight Concealer Palette is only €7.95, so if you're on a budget this is the ideal concealer for banishing dark circles, blemishes and redness.
The palette is an absolute game-changer, and a must-have for any beauty lover looking to hide any tell-tale bags. Finding that flawless base has never been so easy.
It has six pans of high coverage yet light, creamy concealers to brighten those eyes to get ready for smizing (*cough* Tyra Banks *cough*).
According to Marissa Carter, the business boss herself;
"Concealer is a make-up bag must have. With shades such as Cloaked, Obscured, Masked, Hidden and Disguised, the Out of Sight Concealer palette does exactly what it says on the tin – bags be gone."
We can think of a few times when the 'Panda Eyes' were in play, be it from a hangover, exam season or just leftover mascara wreaking havoc.
Seeing as so many people aren't sure exactly how to use concealer in the best manner, we've got some tips assembled from Carter Beauty to assist you:
First of all, always apply your foundation first, and concealer second. When you apply concealer before foundation you'll find that you remove most of it during the foundation application.
Next, draw a triangle with the base under your eye with the point towards the cheek. Intensify eyeshadow colour and avoid fallout by priming your lid with concealer before applying eye make-up.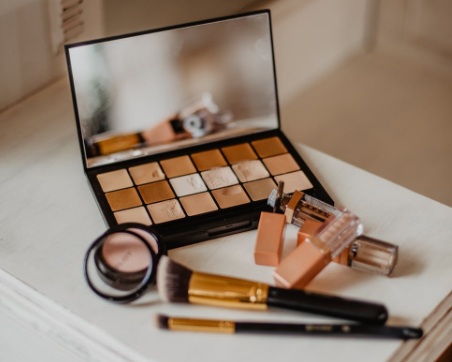 Use your ring finger to apply concealer. Seeing as it's your weakest, you'll apply just the right amount of pressure without pulling at your delicate eye skin.
Opposites attract: Orange or peach tones such as Disguised and Obscured from the Out of Sight Concealer Palette will cancel out the blue and purple shadows that cause under-eye circles.
Top the orange or peach tones with a cover-up that matches your skin. If you think your concealer looks cakey in fine lines, cut a tissue in half and use it to remove excess oil.
Hopefully the number of people who don't fully understand the correct method of using concealer will be reduced now, thanks to Carter Beauty. Utter Queens.
Remember, you don't need concealer to feel your most beautiful self. Think of it as an empowerment tool that gives you control over your under-eye-bags, instead of the bags controlling your self-esteem.