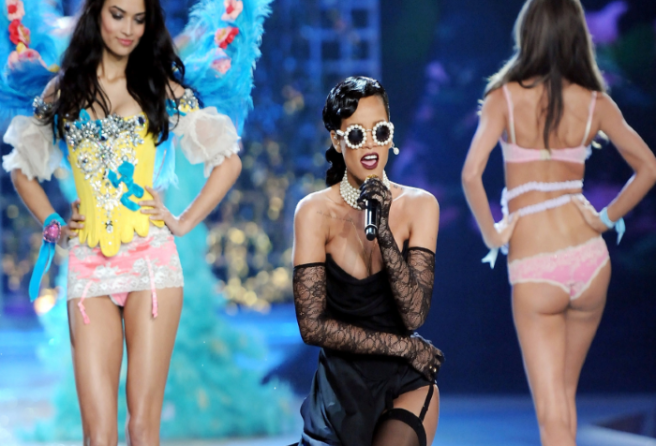 The Victoria's Secret fashion show took place last weekend, and the controversy surrounding the event has been mounting ever since, despite the fact that it hasn't even been aired yet.
Ed Razek, chief marketing officer of L Brands (VS's parent company) threw caution (and tact) to the wind in his exclusive Vogue interview about the fashion show, which first began in 1995.
The public were less than impressed, to say the least, about his statements regarding transgender models in his 'fantasy' show, as well as his attitude towards Rihanna's ground-breaking Savage x Fenty lingerie show.
Razek was quizzed about the lack of diversity in his own show, which features predominantly skinny, cisgender white models, and had more than a few things to say on the matter:
"Do I think about diversity? Yes. Does the brand think about diversity? Yes. Do we offer larger sizes? Yes….Shouldn't you have transsexuals in the show? No. No, I don't think we should. Well, why not? Because the show is a fantasy."
As you can imagine, this caused major drama, as it appears to imply that transgender models are not part of the 'fantasy' world of Victoria's Secret.
Razek later issued an apology regarding his comments about transgender models, which wasn't received well:
Please read this important message from Ed Razek, Chief Marketing Officer, L Brands (parent company of Victoria's Secret). pic.twitter.com/CW8BztmOaM

— Victoria's Secret (@VictoriasSecret) November 10, 2018
His outspoken opinions on the 'fantasy' which excluded transgender models were not the only bone of contention. Razek also shared his own thoughts on Rihanna's phenomenally successful show:
"It's a 42-minute entertainment special. That's what it is. It is the only one of its kind in the world, and any other fashion brand in the world would take it in a minute, including the competitors that are carping at us."
"They carp at us because we're the leader. …We're their first love. And Victoria's Secret has been women's first love from the beginning."
"Everybody keeps talking about Rihanna's show. If we had done Rihanna's show, we would be accused of pandering without question."
Blogger and influencer Louise O'Reilly (@StyleMeCurvy) spoke out about the contentious chief marketing director in a tweet, which Bad Gal Riri LIKED. The shade.
Prime example of why brands need to be careful of casting directors opinions. Especially when it's a 70 year old man who's living in the past. Thank god @rihanna brought us @SavageXFenty this year with genuine attention & love of diversity in her branding https://t.co/pdCk2ueSGq

— Louise O'Reilly (@StyleMeCurvy) November 11, 2018
Her show featured a huge range of models ranging in size and ethnicity, as well as ability. Pregnant model and long-time Fenty ambassador Slick Woods walked the show while nine months pregnant.
Rihanna has yet to officially comment on the Victoria's Secret fashion show, but we highly doubt she'd be impressed by the now-infamous Vogue interview.
To think, it was only back in 2012 that Rihanna performed at the fashion show herself… how time flies.
2018 is a whole other fashion show ball game it seems.
Feature image: Syracuse.com