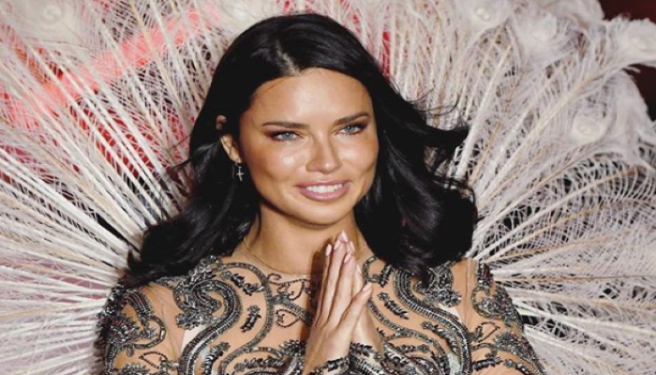 Adriana Lima bids a tearful farewell to her Victoria's Secret wings
It is well and truly the end of an angelic age. Supermodel and all-round BADASS lady, Adriana Lima, has bid an emotional goodbye to Victoria's Secret after walking in their star-studded catwalk show for the final time. We'd sob too.
Lima walked in her first Victoria's Secret show way back in 1999, and has remained one of their prime angels ever since. She is also a fan favourite, with many on the internet referring to her as… wait for it… THE GREATEST ANGEL OF ALL TIME. (#goat)
Comments on Adriana last post on Instagram are making me cry The greatest @AdrianaLima pic.twitter.com/FgxxJzdHcb

— isadora (@VSAngelsBrasil) November 9, 2018
She is retiring from the infamous lingerie brand at the age of 37, and we have no doubt that hanging up those flawless diamond wings must be a difficult thing for the Brazilian supermodel, as VS cemented her career as a supermodel goddess.
The veteran model received a standing ovation as she carried out her final walk, wearing a sheer, sparkling top, blue lingerie, feathered beige heels and those statement wings. She looked like a vision, as per.
Lima was understandably tearful as she waved at the camera, saying goodbye to her fans and fellow angels with the glamour and grace of a true #angel. We're not crying. You're crying.
Adriana Lima's final walk. You're always be our favorite Angel.#VSFS2018 #VSFashionShow pic.twitter.com/nMbIGyOpb1

— . (@ohfavelooks) November 9, 2018
In a moving Instagram post showing her best moments from a compilation of 19 shows, Lima wrote a caption thanking the brand for all that they have done for her:
"Dear Victoria, thank you for showing me the world, sharing your secrets, and most importantly not just giving me wings but teaching me to fly. And all the love to the best fans in the world! Love, Adriana."
Lima is now a mother of two, and was the longest-serving Victoria's Secret model and Angel, as well as acting as a spokesperson for the company. She joined forces with them at the tender age of 18.
She has stomped the runway at the lingerie brand's annual televised show every year except 2009, while she was pregnant with Valentina, daughter number two.
She had been aiming to walk a total of 20 Victoria's Secret shows, as People reported back in 2017;
"Maybe more, I don't know. It's nature. I'm working out, I'm being healthy, so let's see how the body is going to turn out. But I enjoy it. So let's say 20."
However, this changed when Lima spoke about the long-term struggles of modelling, and the tribulations of focusing on body confidence while being permanently aware of what you look like.
She posted on Instagram:
"I had received a call for the possibility of filming a sexy video of me to be posted and shared in social media. Even though I have done many of this type, something had changed in me, when a friend approached me to share that she was unhappy with her body.
"Then it made me think…. that everyday in my life, I wake up thinking, how do I look? Was I going to be accepted in my job?"
"And in that moment I realized that majority of woman probably wake up every morning trying to fit in a stereotype that society/social media/fashion etc imposed…. I thought that's not a way of living and beyond that…. that's not physically and mentally healthy, so I decided to make that change," she continued.
"I will not take [off] my clothes anymore for [an] empty cause….. #Embraceyouself #natureisbeautiful #naturalissexy #LOVEYOU."
Her body confidence post inspired many fans to speculate that she was ending her ties with Victoria's Secret, which is renowned for the immense pressure it puts on it's models to look a certain way, and be a certain weight. It notoriously only showcases one body type on the runway.
The VS models are put through a gruelling exercise regime and diet, which many find almost impossible to endure for more than a few years. Adriana Lima, as the brand's longest-serving angel and mother-of-two, appears to have felt that the time was right to hang up her wings.
We'll miss her working those stunning catwalk #LEWKS every year, but her career is still booming. Age and beauty standards definitely won't hold this gal back.